January 19, 2022
Whether you're a natural blonde, platinum blonde, or sun-kissed brunette, brassy tones can be the bane of color-treated hair's existence. The maintenance can be a doozy, with regular shampoos, heat-styling, and environmental factors all contributing to your freshly colored locks or natural strands fading into unpleasant tones.  
That's where blue and purple shampoos come in and luckily, Eva NYC has options for both! We've laid out the basics on our purple and blue shampoo plus their conditioner partners here, so choosing the duo your routine needs is a breeze.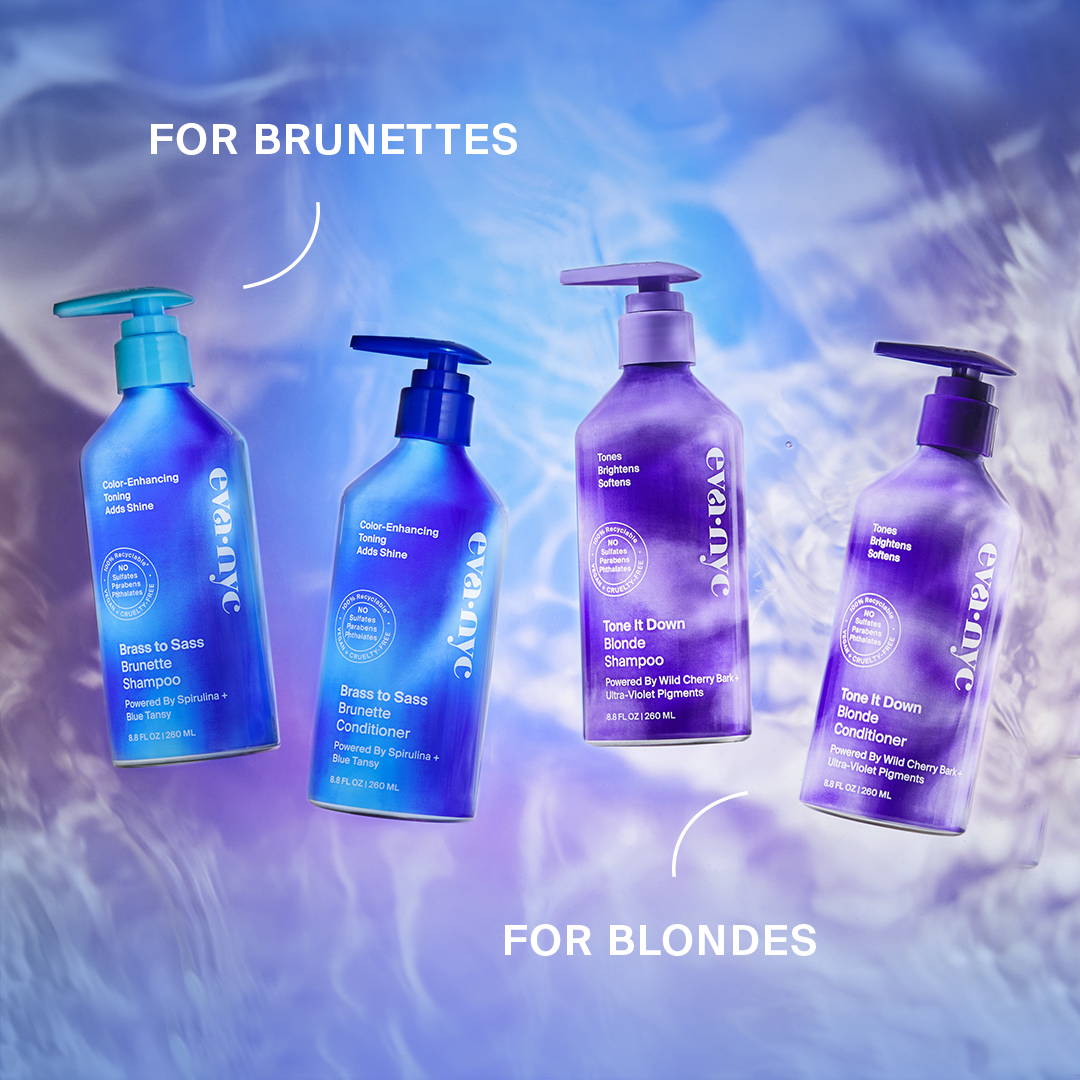 So,
should
you
use blue or purple shampoo and conditioner?
Throwing it back to grade school art class, color theory is a great way to choose which shampoo is best for you. ​​We know colors that are close to each other are friends, while colors that are opposite from each other tend to butt heads (or in this case, cancel each other out).
Blue sits directly across from orange, and purple sits directly across from yellow, making them partners in crime for a battle against brassiness.  
This means that applying purple shampoo will neutralize the brassy yellow tones in BLONDE hair, while blue shampoo will neutralize the brassy orange tones in BRUNETTE hair. 
Calling all blondes!

 
Here's what you need to know about Eva NYC's Tone It Down Blonde Shampoo + Conditioner. 
Our OG Tone It Down Shampoo and Conditioner's purple formula delivers radiant, cool toned blonde hair that's bright, shiny, and soft. Their ultra-violet pigments neutralize yellow brassy tones on all hair types (natural, highlighted or dyed!), for salon-fresh blonde, every time.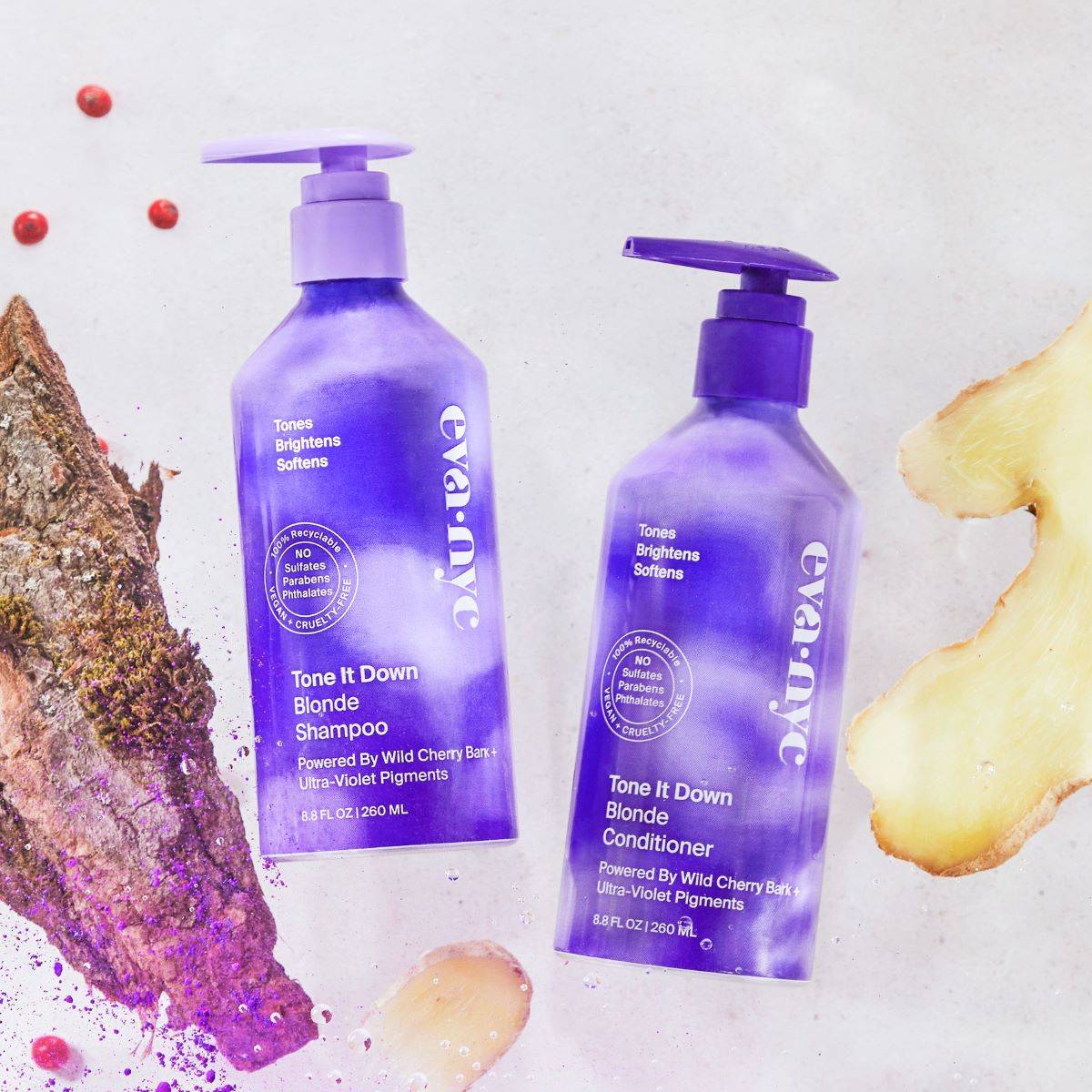 Why should blondes have all the fun?
Brunettes, here's what you need to know about Eva NYC's Brass to Sass Shampoo + Conditioner. 
New to the squad, Eva NYC's Brass to Sass Brunette Shampoo and Conditioner duo delivers rich, radiant brunette hair that looks shiny and dimensional. Their bright blue, nutrient-rich, ultra-moisturizing formulas leave all hair types touch-ably soft while neutralizing brassy red and orange tones, to bring out the deepest hues in brunette hair — in just one wash! 
Great for natural and dyed brunettes, after using Brass to Sass for one week, 93% of consumers said they can now wait longer before their next salon color appointment*.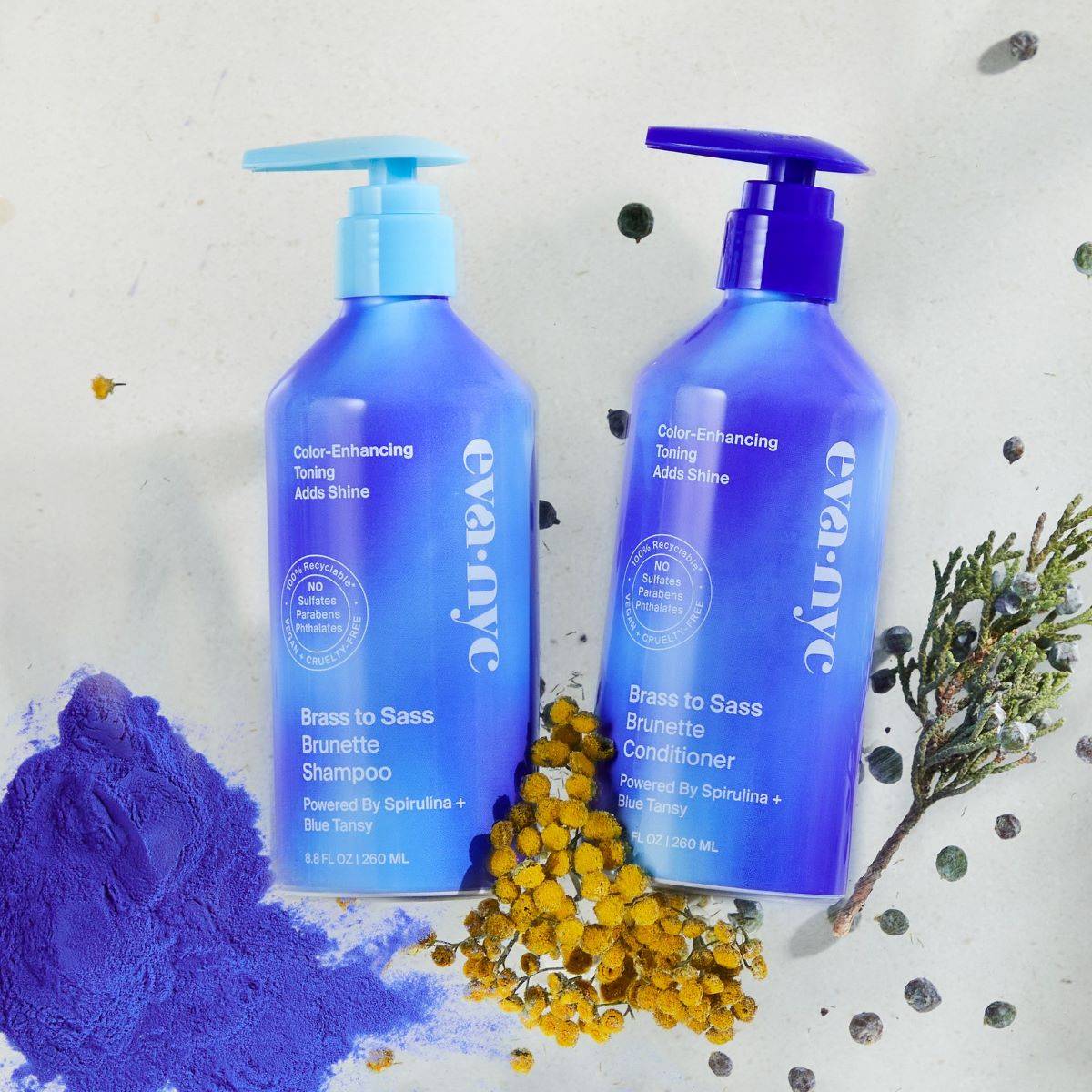 They are powered by blue tansy to condition and combat dryness, vitamin-enriched spirulina, and free radical-fighting juniper berry — with 93% of consumers saying that they can now wait longer before their next salon color appointment after using Brass to Sass Shampoo and Conditioner for one week! 
You can add them to your BRUNETTE maintenance routine by starting with our blue shampoo on wet hair, massaging gently into a thick lather. After rinsing thoroughly, follow up with our blue conditioner and leave it on for 2-3 minutes, rinsing thoroughly once more.  
Both of our color care duos are certified cruelty-free through Leaping Bunny, certified vegan, certified GMO-free, and free of harsh chemicals like sulfates, parabens, phthalates. 
Here's to blondes AND brunettes having more fun. 
*17-day study in 30 healthy subjects, ages 18+, of all races and ethnicities, with brunette hair