January 31, 2023
This Black History Month, Eva NYC spotlights three pageant titleholders from across the United States. Titled "Natural Glory", this educational and celebratory campaign places these queens center stage to share their personal experiences rocking their natural curls, coils, and protective styles on and off the pageant stage. Deshauna Barber (Former Miss USA 2016), Chandler Foreman (Former Miss Texas 2019/2020), and Elizabeth Pierre (Former Miss Massachusetts 2021) take us along on a journey of true Black girl magic, all while shattering glass ceilings.
Aaliyah's Story
For those hair care + beauty lovers out there who may seek curiosity about what the pageant world entails, allow me to roll out the red carpet for you. Come on in!
I'm Aaliyah, the Community Engagement Coordinator at Eva NYC. I am also a former pageant titleholder that competed for 6 years.  
 
Throughout this time, I too wore various hairstyles and participated in the glamour of pageantry. However, I also endured endless time periods where I was hesitant about whether my hair was palatable enough to be considered a winner.
Black women competing with their hair in its natural state was not seen often, let alone in the light of the high honor of representing your state our country on a national stage like Miss America or Miss USA (you read that right! There are various pageant titles and organizations.)
That was until women like Deshauna, Chandler, and Elizabeth walked into the room. Instead of making a seat at the table, they fearlessly reconstructed a new place for all women to feel comfortable sitting – especially with their natural hair and other fun protective styles cherished in Black culture.  
Natural Glory is synergistic to the mission of these women below.  
Because together, Eva NYC uplifts the voices of Black women in agreeance that there is so much unleashed power within us to love what grows from the crown of our heads. 
Meet the Queens:
Deshauna Barber,

Miss USA 2016
Dr. Deshauna Barber is a former Miss USA, women's rights advocate, award-winning international speaker, coach, and entrepreneur with a bold approach to inspiring and encouraging her audience. Deshauna uses her experience as an Army veteran, nonprofit CEO, former Miss USA, and STEM graduate to inspire her audience.  
 
Dr. Barber served her country for over 11 years and when she is not advocating for veterans, she travels the world as a full-time Motivational Speaker. As Miss USA, she spent her year-long reign advocating for our men and women in uniform by encouraging our government to provide additional support for soldiers who have Post-Traumatic Stress Disorder (PTSD).  
She currently works full time as the President and Chief Executive Officer of Service Women's Action Network, the nation's leading 501c3 nonprofit organization advocating on behalf of all servicewomen and women veterans in the country.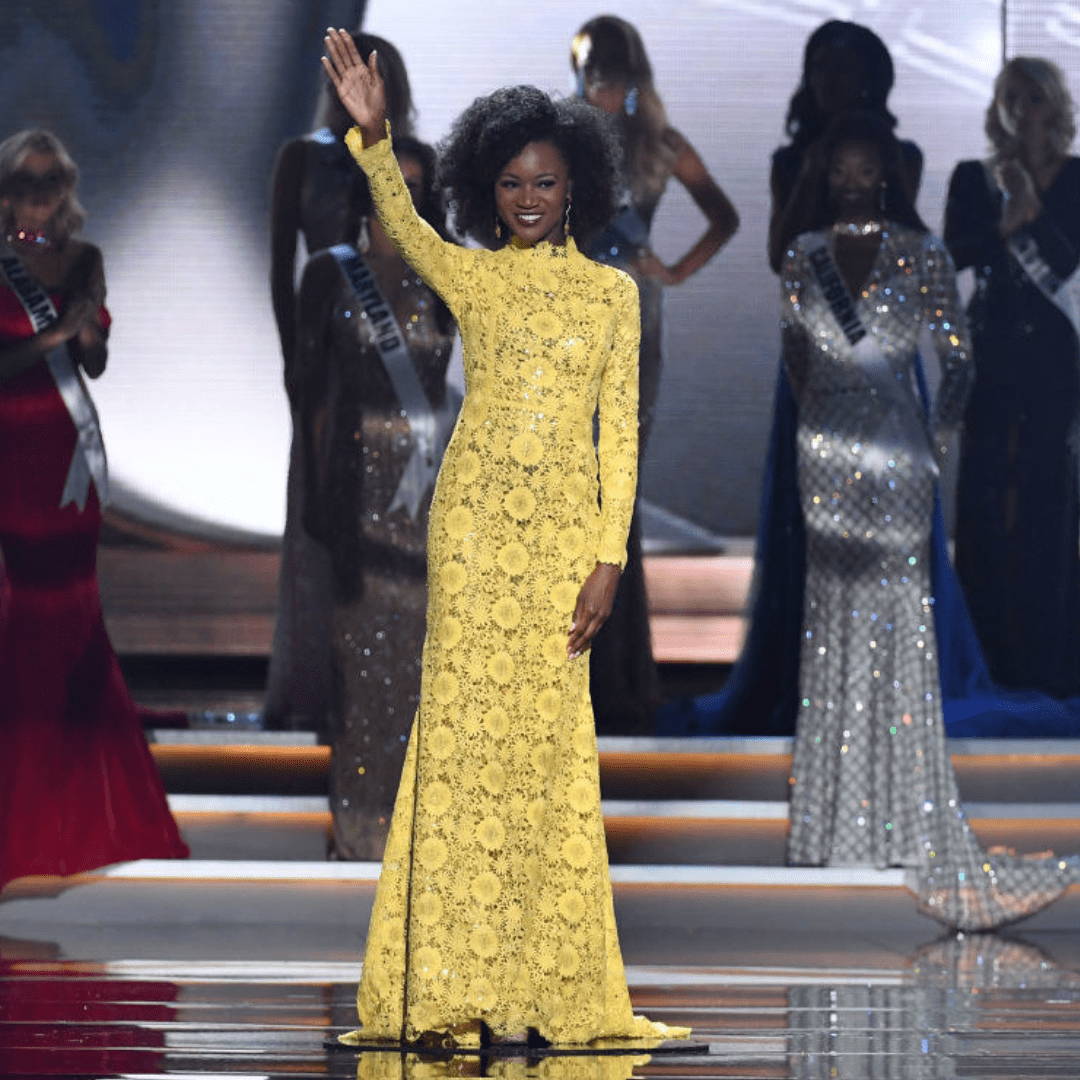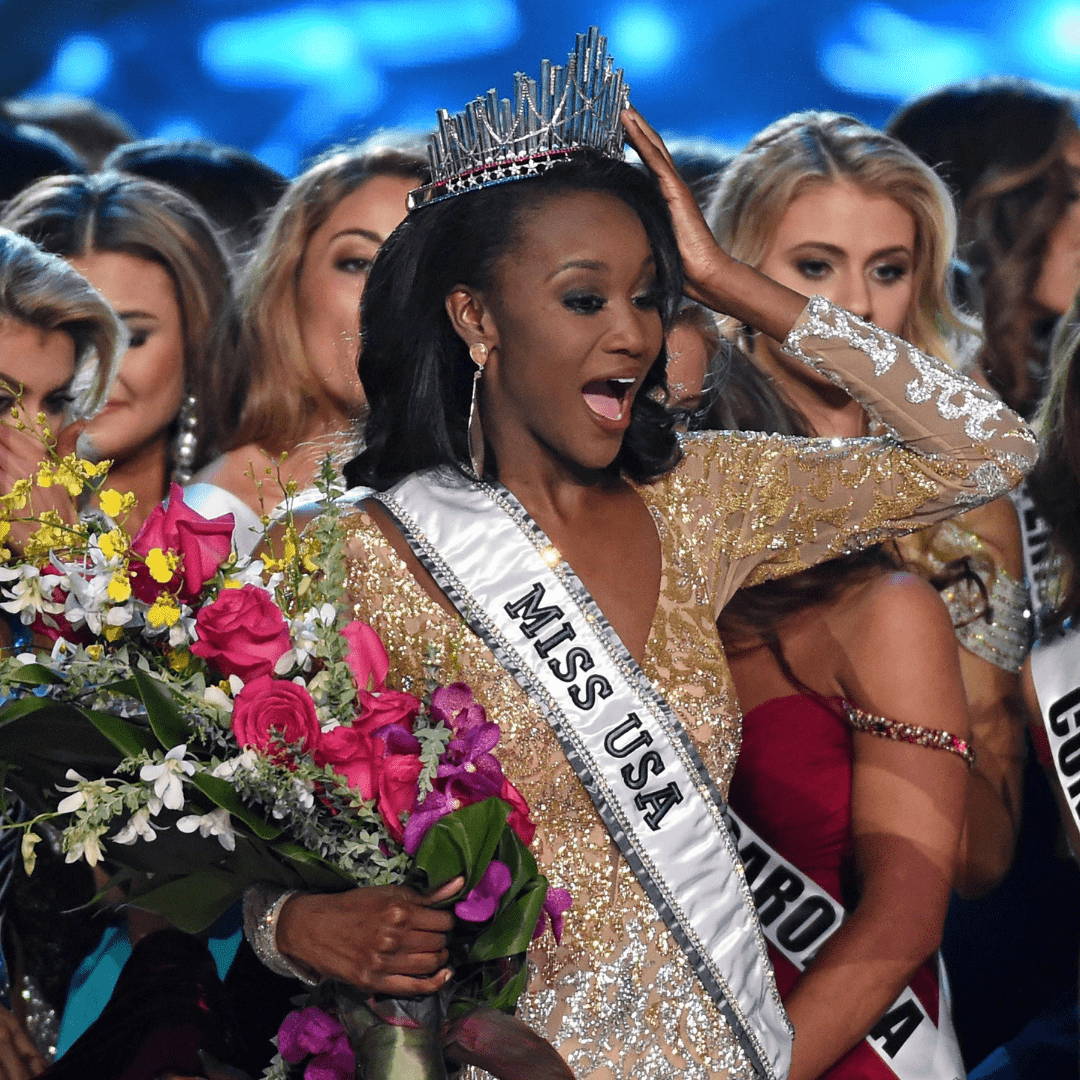 "My absolute favorite hair moment as Miss USA was when I decided during my final walk, I would wear my natural afro kinky hair on stage. It was the first time I had showcased my hair during my hair time as a titleholder…what inspired me to do this is because I felt as though I've never seen a 4C hair type on the Miss USA stage...I knew that as my final moment as Miss USA I had the autonomy to decide how I wanted to show up in that moment." 
 
Fun Facts:
Deshauna loves reptiles and used to own a ball python for over 10 years.

 

Deshauna's pageant journey started by accident. She was discovered at age 19 by a pageant recruiter while she was working a summer position at Target.

 

Deshauna has appeared on The Steve Harvey Show, The Rachael Ray Show, Fox, and Friends, The Chelsea Show, Good Morning Washington, The Ellen DeGeneres Show, The T.D. Jakes Show, The Nightly Show, The Source on Sirius XM, The Daily Show, Lunch Break, Live with Kelly, Good Morning America and in Glamour Magazine and Diversity Magazine.
Chandler Foreman,

Miss Texas 2019
26-year-old Chandler Foreman was born and raised in Houston, TX. A pageant competitor since the age of 15, Chandler traveled the nation and excelled in sports and cheerleading. She went on to graduate from the same high school as none other than the iconic Beyonce, where she attended their school of Performing and Visual Arts (HSPVA) as a classic flutist. She then earned a degree in Converged Broadcast Media from the University of North Texas.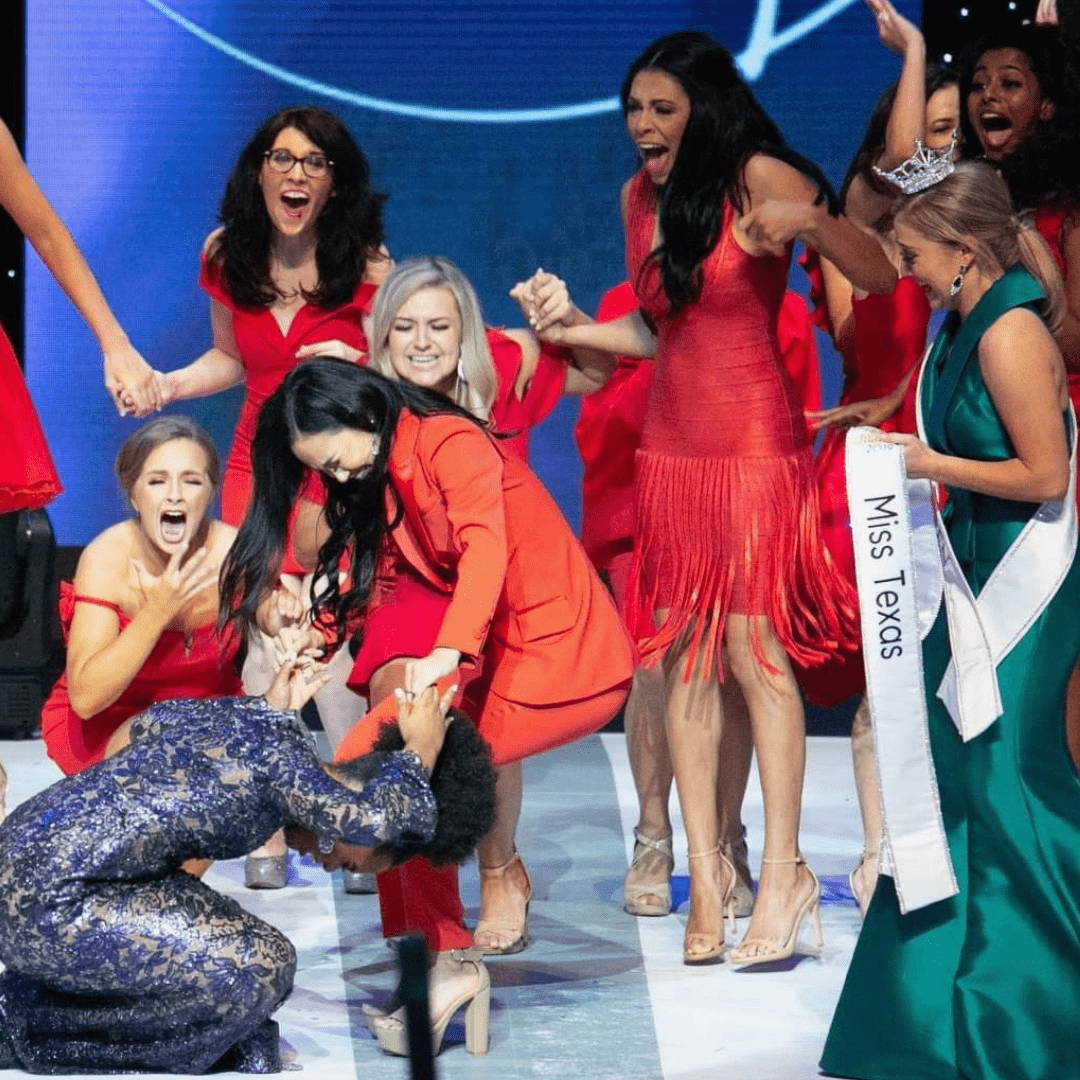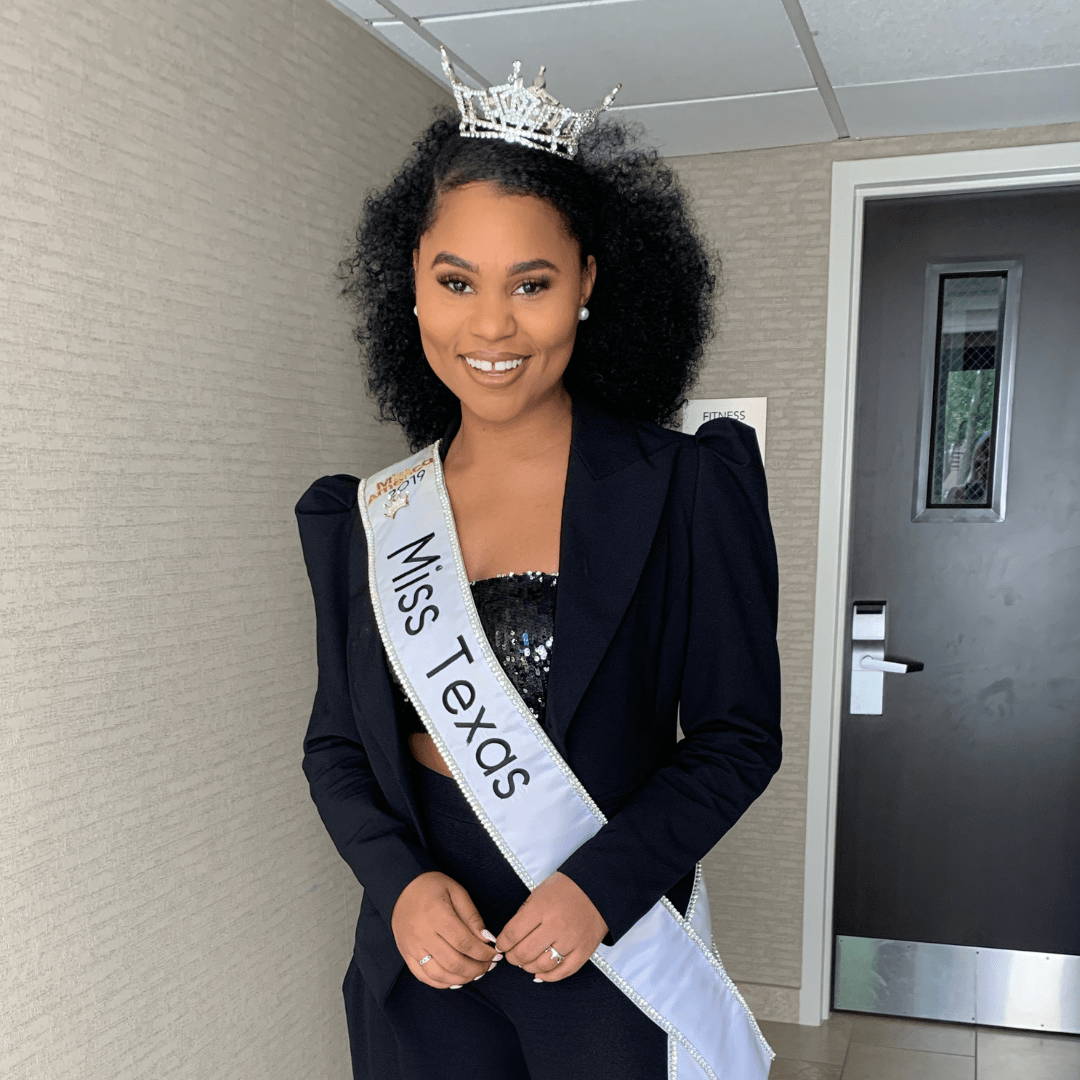 "I was the third Black Miss Texas, the first to wear my 'fro, and one of the first to rock it on the Miss America stage. Our hair is like mother nature: it's going to do what it wants to do! That's where the TLC comes in…our hair is a part of us, but it does not define every part of us. Stay true to your message!"

Fun Facts: Chandler was a part of the Houston Youth Symphony and co-founded teen girls empowerment organization KweentoQueen. She also is a flute entertainer and is classically trained.
Elizabeth Pierre,

Miss Massachusetts 2017
In 2021, Elizabeth Pierre became the first Miss Massachusetts of Haitian descent and spent her year empowering youth-led social change. She had the honor of placing 2nd runner-up at the 100th Anniversary Miss America Competition. 
She is now a viral content creator, social media guru, and Communications and Social Media Manager for the Mayor of Cambridge, MA. In her spare time, you can find her fiercely advocating for marginalized voices and dancing for, what she calls, the best fans in the NBA, as a Boston Celtics Dancer.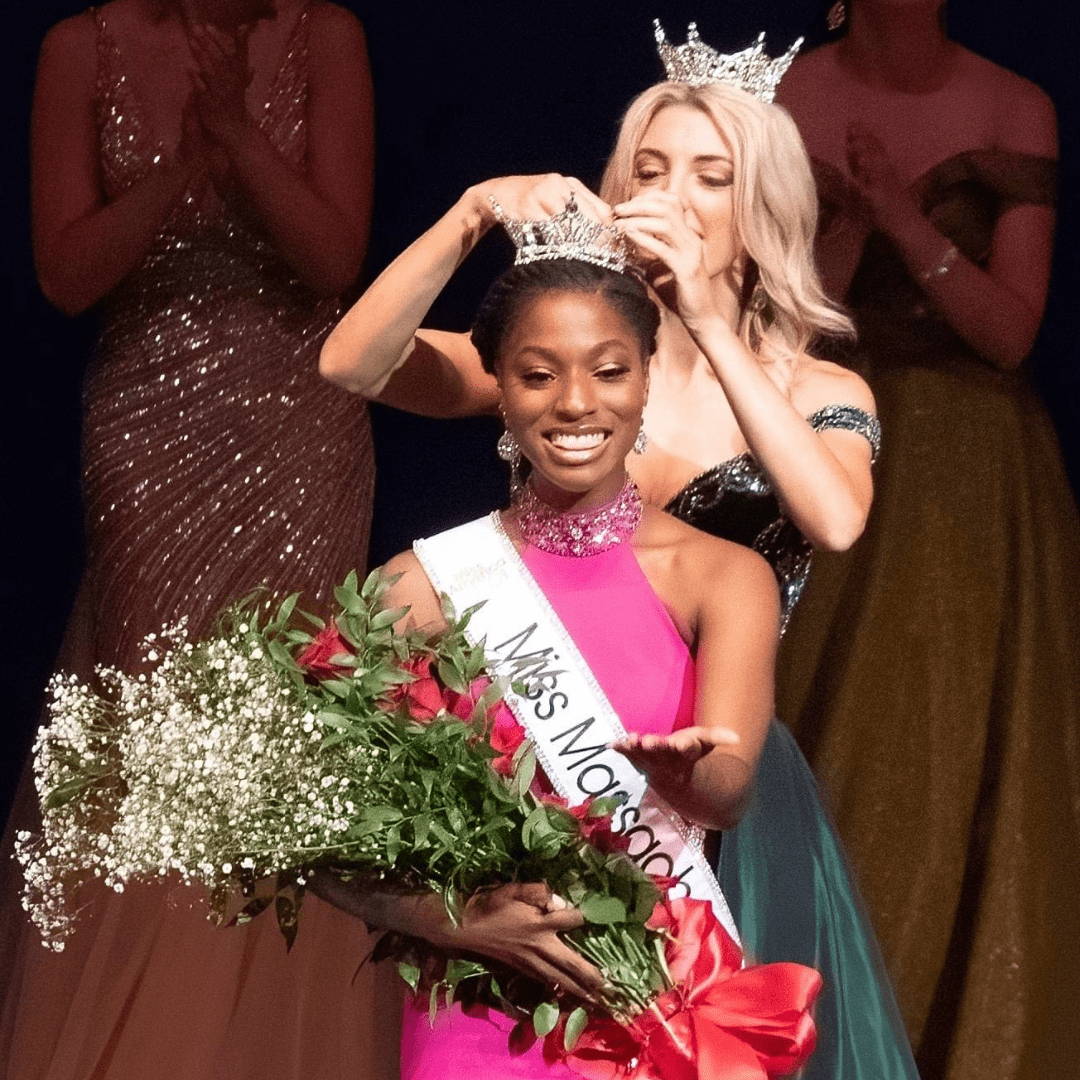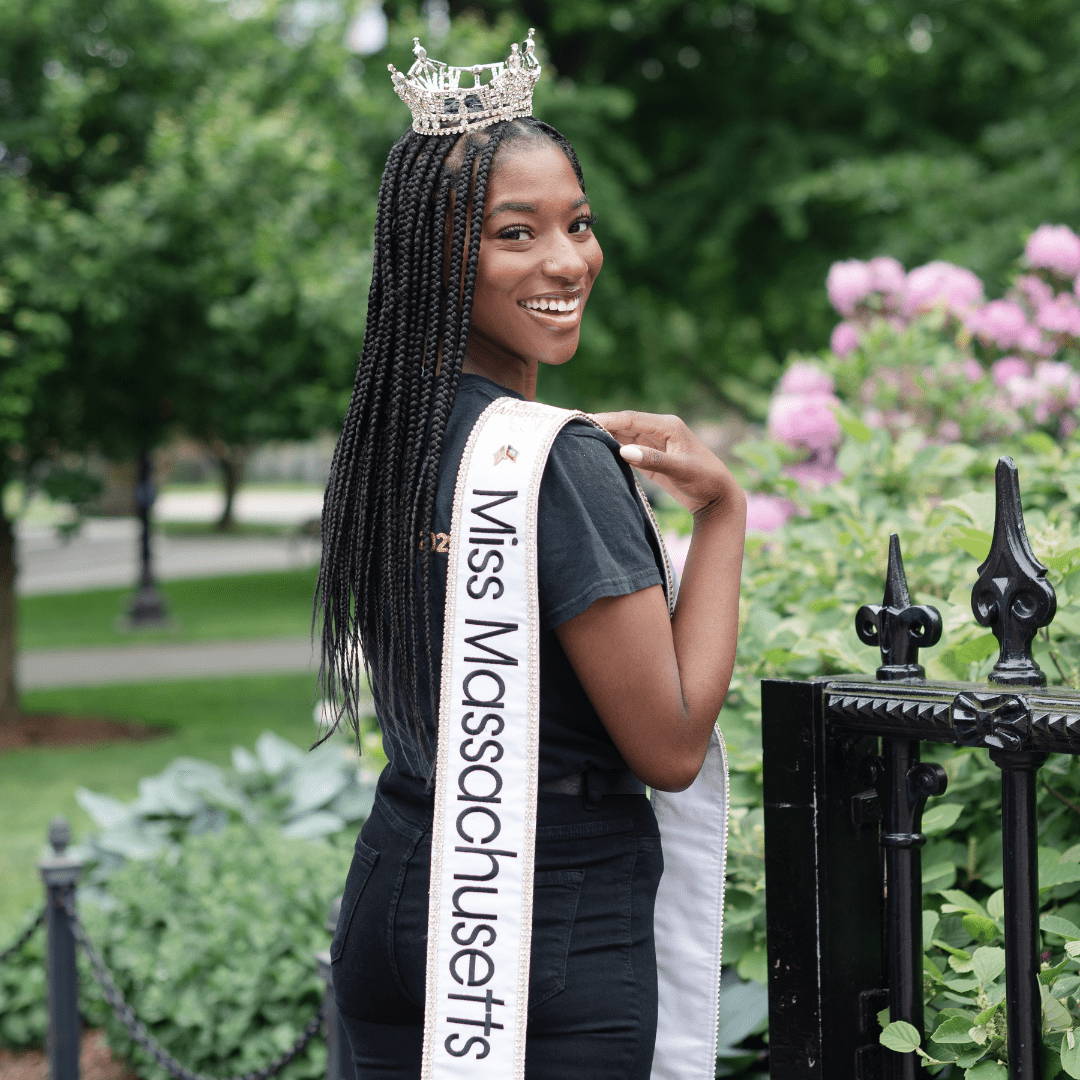 "Regarding the future of Black women in pageantry…I am excited to see us come on stage feeling beautiful in a world that often tells us we're not… I just want our culture and our heritage to shine in every way possible." 
Fun Facts: Elizabeth was highlighted in Haiti's oldest and largest daily newspaper "Le Nouvelliste", had over 150 appearances as Miss Massachusetts, and only competed in the Miss America Organization (MAO) for one year.
Natural Glory
The accolades above made this campaign initiative a must-have. Each woman featured in this campaign pushed a barrier. They were the first to do something in their respective pageant organization. As exciting as it is to still celebrate these accolades on one hand, I cannot wait for the day that we lose count and are submerged in the normalcy of Black women showcasing their stunning, strong strands of hair. 
   
Stay tuned throughout the month (and throughout the year) to celebrate the versatility, uniqueness, and gift of kinky, coily, and natural hair strands. Each of us has a "natural glory" and reason to see our mane as a crown.