November 24, 2021
Cancer never took a time out during the pandemic, continuing to impact our communities and the lives of our loved ones. As of late, the country has been able to start breathing small sighs of relief from the effects of the pandemic, but those battling cancer continue to face their enemy daily. 
That's why Eva NYC is partnering up with amika co-founders and City of Hope Spirit of Life® honorees, Nir and Shay Kadosh, Chelsea Riggs and Vita Raykhman to bring you the #GivingisBeautful campaign. The honorees wanted to engage the networks of beauty companies to spread awareness of the life-saving research that City of Hope is doing.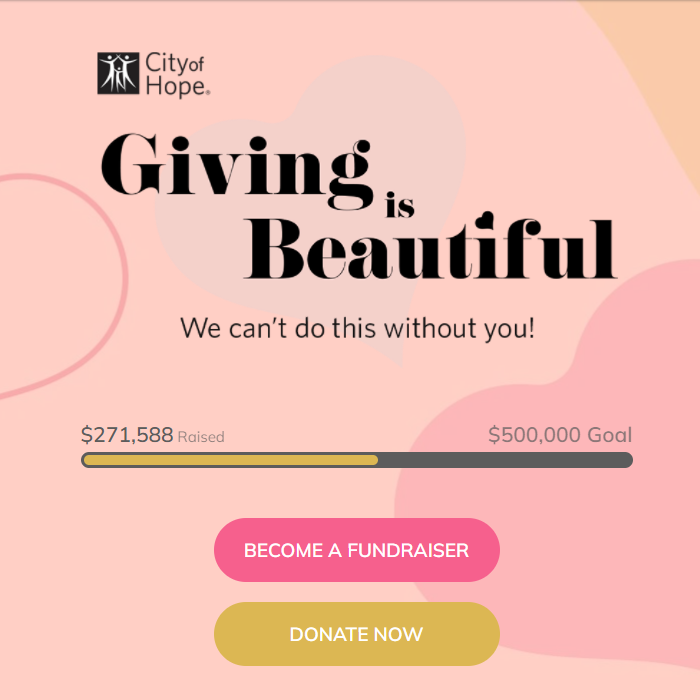 So, what is the #GivingisBeautful campaign?
#GivingisBeautiful is a fully digital campaign led by City of Hope that will promote a day of giving through the participation of brands and industry leaders rallying their followers, employees, and customers. Two months of promotion and outreach will culminate in a one-day, industry trending, social media driven posting/dialing for dollars day of giving — all powered by the beauty industry and its partners.  
Your contributions will have a profound and far-reaching impact on advancements in care received by all populations, especially for at-risk populations and communities of color who are constantly among the hardest hit.  
Here are some quick hard facts to get you pumped!
Four of the top cancer drugs therapies in the world were discovered at City of Hope.

 

They are national leaders in precision medicine, leveraging the power of genomic analysis to be more precise in the fight against cancer.

 

They are part of the Comprehensive Cancer Network, a cohort of the nation's leading cancer centers helping to establish the industry's best practices and most innovative approaches to care.

 

Their patient-centered approach is a national model emulated in cancer centers around the country. They were the first to bring an entire range of psychosocial support services under one umbrella to help patients and families navigate the challenges of a cancer diagnoses.

 

They invented human synthetic insulin, essential to millions of diabetics worldwide.

 
#GivingIsBeautiful's mission is to cause a ripple effect that will rally the online beauty community in making an impact on the lives of people who genuinely need it most. The hope is that this becomes an annual day of giving for the beauty space and all those connected to it to do more good and eradicate cancer. 
Want to join our movement? Here's how.
This year on Giving Tuesday, November 30th, 2021, beauty brands across the industry are teaming up to make this all happen, engaging and encouraging their network of customers, influencers, followers, and employees to donate.
If you'd like to get involved, you can join our team and help us spread the word or make a simple one-time donation here. If you join our team, we'll provide you with all the tools you need to share and promote the movement, all you have to do is sign up! 
Join the team here at Eva NYC alongside City of Hope's National Beauty Industry Council, amika, Revitalash, Sephora, and others as we come together for one special day, unified as one, determined to make a difference.