February 28, 2022
Whether you have natural, highlighted or dyed blonde hair, trust us when we say that you need this ultra-violet pigmented shampoo and conditioner in your life.
If you're looking for an easy, affordable way to keep your blonde looking cool-toned and vibrant, our Tone It Down Collection is here to give you a good hair day!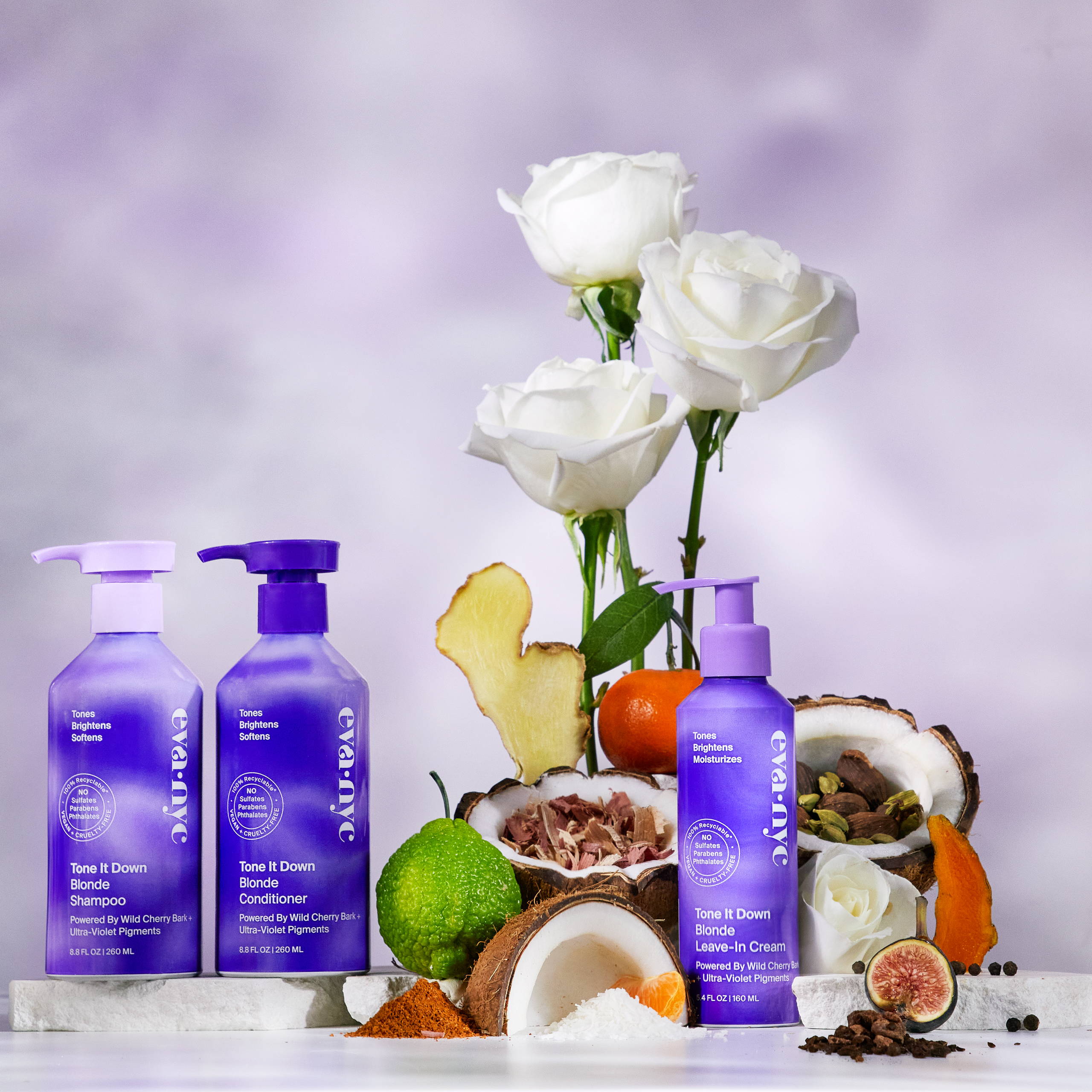 So, W
hat Does
Purple Shampoo
+ Conditioner Do?

What Is A Purple Leave-In Cream?
Thinking about that color wheel from art class is super helpful when discussing the why's and how's of color care. The color purple happens to sit directly across from yellow on the color wheel, meaning that when the two colors are mixed, they cancel each other out.
In this case, the ultra-violet pigments in our shampoo and conditioner neutralize all those yellow brassy tones on blonde and brassy grey hair. 
Our Tone It Down Blonde Shampoo + Conditioner uses richly hued ultra-violet pigments that neutralize those pesky, yellow brassy tones on ALL hair types, leaving strands a radiant, cool toned blonde hair that's bright, shiny, and soft — whether your color is natural, highlighted, or dyed! 
Our newest Tone It Down Blonde Leave-In Cream is a waterless cream that is clinically proven to deliver 4x more moisture after just 1 use, while adding brilliant shine and offering heat protection to protect and extend hair color.  
Does Your Hair Need a
Haircare Treatment
?
Whether your blonde strands were born in a salon or grew naturally from your scalp, purple shampoo and conditioners are best for those with lighter strands (think blondes, greys, and pastels).
If you're a brunette looking to cancel out red and orange brassy tones, it's best for you to use blue shampoo and conditioner since purple products are best suited to neutralize yellow brassy tones.
What

Powers

Our Purple

Blonde Collection?
To really kick brass to the curb, our purple hued shampoo and conditioner are powered by a trio of hero ingredients that will take your blonde to the next level.  
 
They include: 
 
Wild Cherry Bark, which contains high levels of antioxidants to help deeply condition for a smooth and silky feel. 
Ultra-Violet Pigments, that neutralize and cool down yellow and brassy tones. 
Ginger Root Extract, which has stimulating properties that work to energize, and polysaccharides and amino acids that help to moisturize. 
 
As if this trio of ingredients wasn't hardworking enough, both formulas are certified vegan and cruelty-free, jam packed with nutrients and free of harsh chemicals like sulfates, parabens, and phthalates. Plus, its packaged in 100% recyclable, forever aluminum!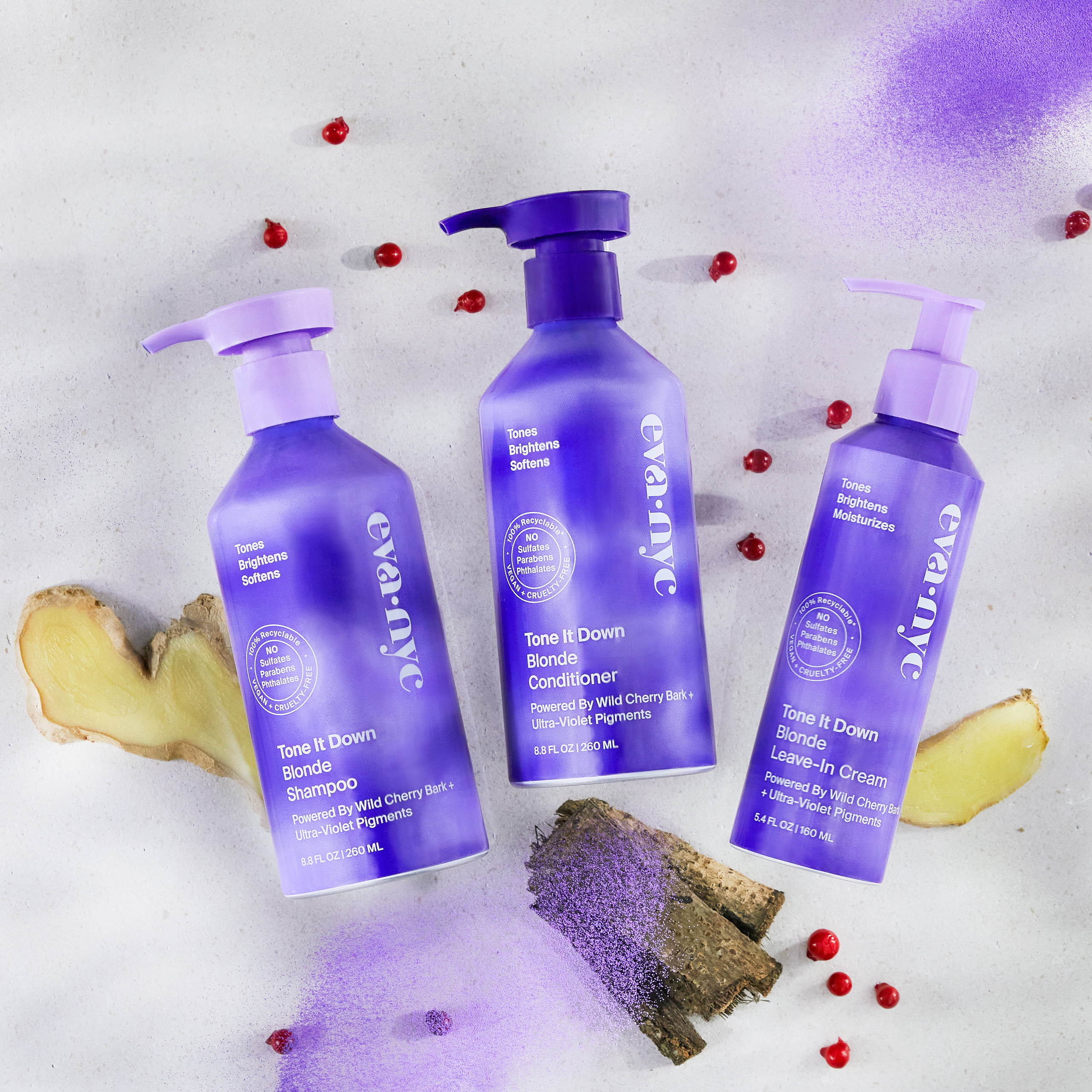 How Do You Use Our Purple

Shampoo

,

Conditioner

+ Leave-In Cream

?
To achieve a blonde that everyone will envy, we recommend taking the following steps: 
 
Step One: Begin by gently massaging Tone It Down Blonde Shampoo on wet hair, working it into a thick, luxurious lather and letting it saturate your strands. Rinse thoroughly, making sure to evenly distribute the product throughout your hair. 
 
Pro tip: when you use shampoo that has rich pigments in its formula, it's a good idea to apply the product from root to tip to ensure even distribution and toning. 
 
Step Two: After rinsing out our purple shampoo, for extra moisturizing and toning benefits, follow up with our Tone It Down Blonde Conditioner. Apply to freshly cleansed hair, gently massaging it from root to tip. Leave it on for 2-3 minutes, rinse thoroughly, and enjoy your salon-fresh blonde!
Step Three: Once out of the shower, to bring extra brightness and shine, apply a pea-sized amount of our Tone It Down Blonde Leave-In Cream on damp hair before styling, or on dry hair to tame flyaways and refresh dry ends. Achieve noticeably cooler blonde hair!