May 13, 2022
At Eva NYC, we not only want to be kind to the planet and animals, but also to each other. To celebrate Asian American and Pacific Islander Heritage Month, we've partnered with Korean beauty brand Sulwhasoo to amplify their "Proclaim Your Name" campaign and charity initiative.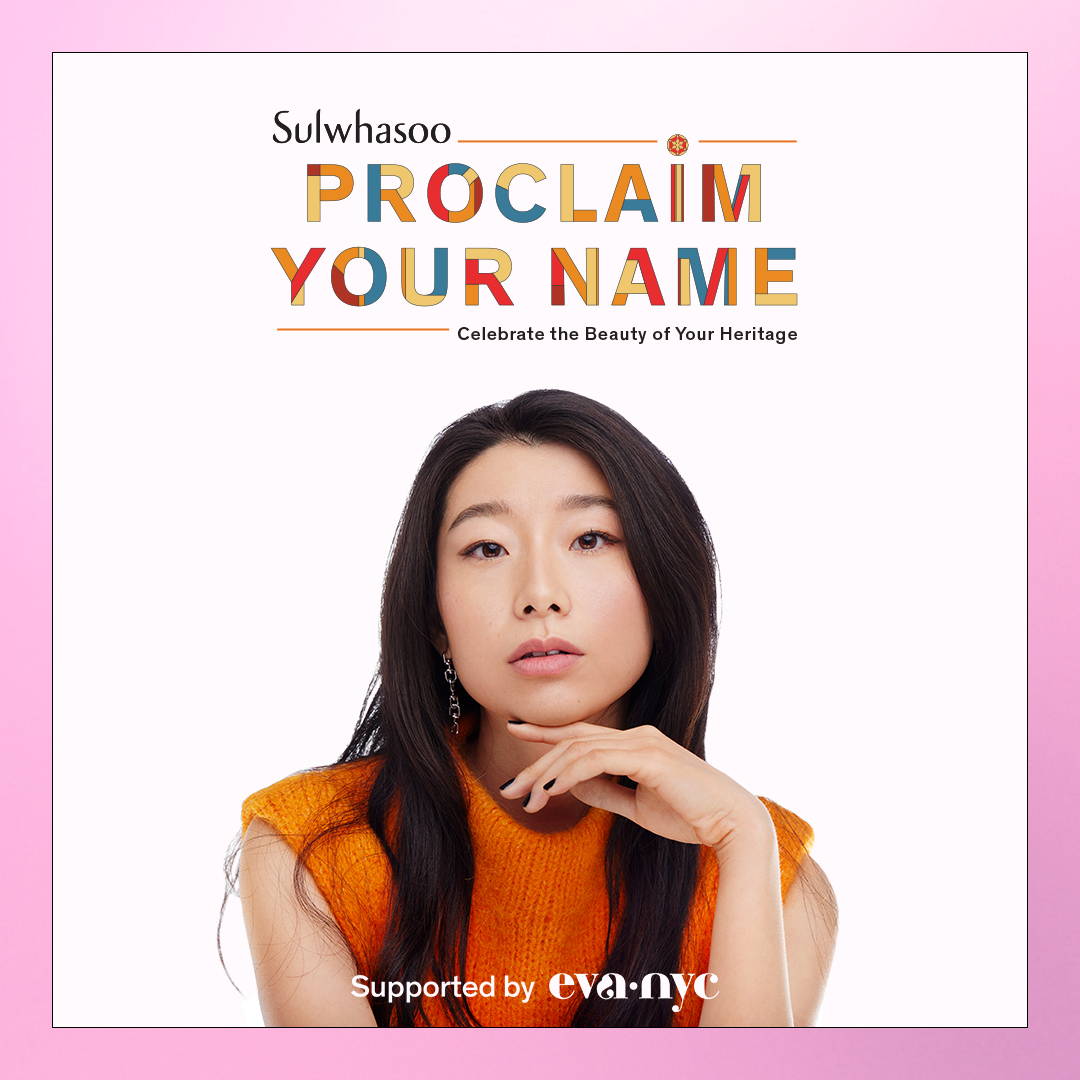 Defining Sulwhasoo
 Sulwhasoo means snow flower in full bloom — and although it can be difficult to pronounce at first, this Korean beauty brand wants you to know that you should be proud of your name and what it represents.  
As a company that stands for equality, diversity, and love for all, Sulwhasoo has made it their mission to bring awareness to—and celebrate—the unique facets that make us who we truly are. At Eva NYC we're proud to support them on that mission. And to do this - it's all about starting with a NAME. It's how we announce ourselves to the world. It's a symbol of our identity, ethnicity, culture, tradition, experience, and self-expression.
What does it mean to

"

Proclaim Your Name

"

?
A name is both profoundly personal and yet so public. And many of us have traded in our remarkable birth names for aliases that are more easily accessible and acceptable to fit in and conform.  
Join Sulwhasoo and Eva NYC in a mission-led movement to empower individuality and honor different heritages through the beauty of birth names. They're a familial gift, as unique as you, and we invite you to #proclaimyourname and celebrate the beauty of your heritage!  
Supporting Act to Change

 
To further support our communities, Sulwhasoo will donate $1 to Act To Change for every Instagram, Tiktok, YouTube & Facebook post telling your personal story using #ProclaimYourName during the month of May ($25,000 guaranteed donation; up to $30,000 maximum donation).  
To support this initiative, Eva NYC will donate $1 from every purchase of Satin Dream Leave-In Cream and Mane Magic Hair Fragrance through the month of June to Act to Change when you shop on eva-nyc.com.
Act To Change is a national 501(c)(3) nonprofit working to end bullying among Asian American and Pacific Islander (AAPI) youth. It is the only national group with this primary focus, with an interdisciplinary approach that spans education, public health, and civil rights. They envision a world where all youth have the opportunity to grow up feeling proud and supported in their identities. 
Every year on May 18, Act to Change honors Vincent Chin, who was murdered in a brutal racial hate crime in 1982, by rallying cities, states, elected officials and community organizations in marking the National AAPI Day Against Bullying and Hate. The event United We Stand features powerful AAPI voices who inspire youth to become proud in their identities and speak up against bullying. 
Hyosun's

Story

 
My name is Hyosun Kim and I'm a Senior Designer on Eva NYC's creative team. Eva NYC is a proud supporter of the AAPI community and provides its employees the space to celebrate the beauty of our heritage. As a Korean-American team member, its important to have visibility of all our cultures and experiences go further than our physical identifiers.
Honoring AAPI Heritage Month celebrates the perseverance of those before us who fought for us to honor our heritages and stand along with others as well. I'm here to tell you about what it means to proclaim my name.  
When I heard about the partnership and the campaign "Proclaim Your Name," I was very excited to be participating in something that I feel like I have so much to talk about. This collaboration explains why I kept my name, and the story behind it felt like it was a place I got to celebrate being me in America with my culture and my heritage. The collaboration gave me time to remind me of who I am, who I've become and how proud I am to have kept my name. Thank you Sulwhasoo for creating this space for AAPI.  
 
The first thing I had to do when I moved to North America was to decide my name. To keep my Korean name "Hyosun" or to change it to something easier and more common in America. I tried out the name Sunny, but It just didn't feel like me and not giving much thought, I kept my Korean name. That said, I am so happy I have kept my name as is, because now I feel like my name creates power to love myself and enjoy being different and being unique. I even made a fun way to explain my name when I meet someone new, I always tell them it's "yo," and then "sun" that's up in the sky, so "yo-sun" but then you put an "h" in the beginning = "Hyosun." So when I go to a party, that's become my conversation starter! Being different, looking different, and having a different culture is a blessing now but it wasn't always easy. In fact, it was the biggest struggle I had growing up. I had to pretend to be more confident than I was, and I had to be pretend to be tougher than I wanted to. Looking back at, I shouldn't have hidden how different I am because of my heritage or how I look, because now that's what gives me excitement, passion and drive. 
To learn more about Sulwhasoo and the Proclaim Your Name campaign, please visit their website here.
*Sulwhasoo has pledged to donate a guaranteed minimum of $25,000 and maximum of $30,000 to Act To Change