May 10, 2022
That feeling after you shower + slide into silky sheets – but like for your hair.  
Meet Eva NYC's Satin Dream Smoothing Collection – formulated to give your strands the satin-y smooth, luxurious feeling that hair dreams are made of.  
Best for thick hair types, our Satin Dream Shampoo's gentle formula creates a pillow-soft lather and rinses clean, while our Satin Dream Conditioner's ultra-rich formula polishes over every strand – making it the perfect in-shower duo, leaving hair soft, shiny, and glossy.​
If you're looking to quench extra-thirsty locks, just follow up with our new + improved Satin Dream Leave-In Cream's dreamy formula, which melts into hair, leaving it frizz-free, soft and uber-hydrated. 
Want to know if Satin Dream is best for you? Roll a single strand of hair between your fingers. Thick hair has more protein than fine hair, making it feel rougher to the touch. If you can feel it easily, you have thick hair – and Satin Dream is perfect for you.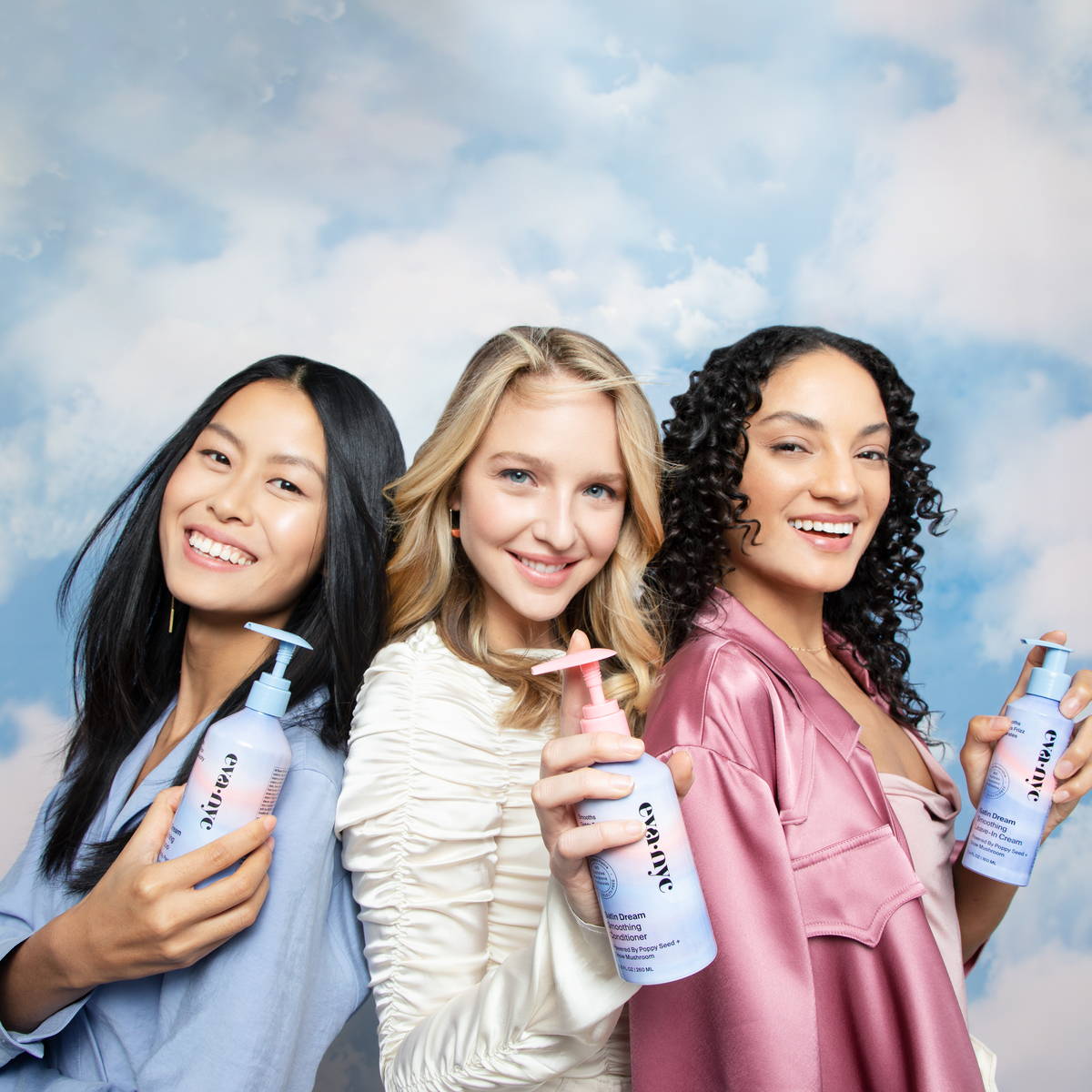 Powered By
This trio of frizz-fighting dynamos is powered by ingredients that leave hair pillow-soft. 
 
Poppy Seed is a wonderfully high source of unsaturated fatty acids, including moisture-binding linoleic acid and oleic acid. It's also rich in phytonutrients and antioxidants, making hair easier to comb through and adding a healthy shine as well. 
Often compared to hyaluronic acid, Snow Mushroom acts as a humectant in these formulas, delivering powerful antioxidation properties. This 8th century Chinese herb has been used for thousands of years to help improve hair health and youthfulness. 
Flaxseed Oil, abundant in omega-3 and Vitamins B and E, has strong smoothing and softening properties – perfect for delivering healthier-looking hair. 
Unlike many other frizz-fighting products on the market, this collection delivers ultra-soft strands without any silicones! It's also certified vegan and cruelty-free, nutrient-rich, and free of sulfates – plus, it's packaged in 100% recyclable, forever aluminum!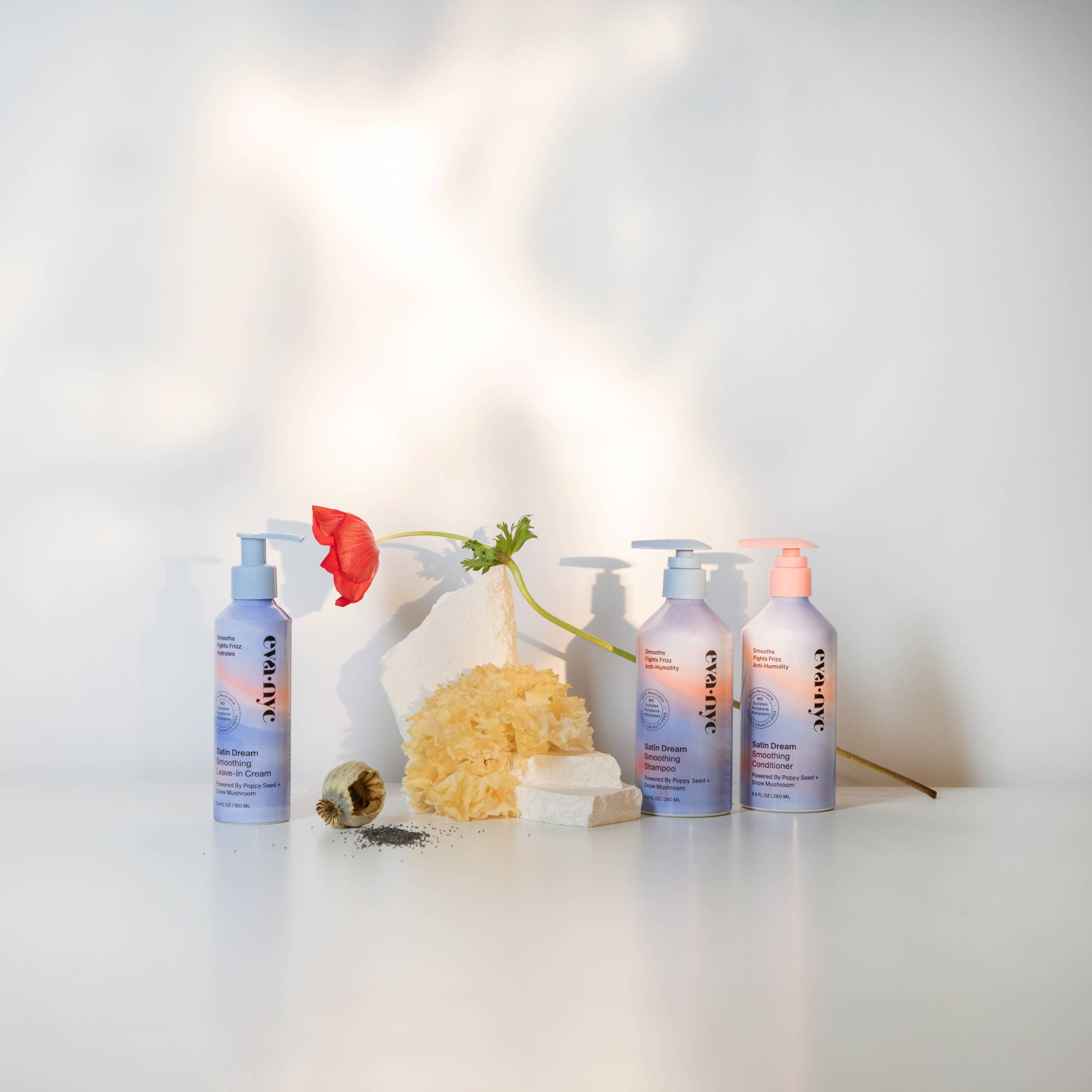 The Regimen
For a good, anti-frizz hair day, every day, take the following steps. 
 
Step One: Start by massaging Satin Dream Smoothing Shampoo gently on wet hair, working it into a thick, pillowy-soft lather and letting its moisturizing properties really penetrate your strands. Rinse thoroughly! 
 
Step Two: Follow up with our Satin Dream Smoothing Conditioner. Apply to freshly cleansed hair, gently massaging its ultra-rich formula over every strand so it can work it's magic. Leave it on for 2-3 minutes and rinse thoroughly! 
 Step Three: To add some extra satiny, silky moisture to thirsty, thick hair types, follow up with our Satin Dream Smoothing Leave in Cream! Apply a small amount to your palm and rub hands together to emulsify the product, making its application smooth and seamless. Work it throughout your hair, making sure to focus on mid-lengths through ends, then style as desired.  
 Pro Tip: Hair flip for good measure.