February 28, 2022
Why should blondes have all the fun?   
For our brunette friends, we're here to share how you can have shiny, radiant locks with blue shampoo!  
What
Does Blue Shampoo Do?
Just like the purple pigments in purple shampoo neutralize yellow brassy tones in blonde hair, blue shampoo cancels out any undesirable red and orange brassy tones that brunettes often encounter.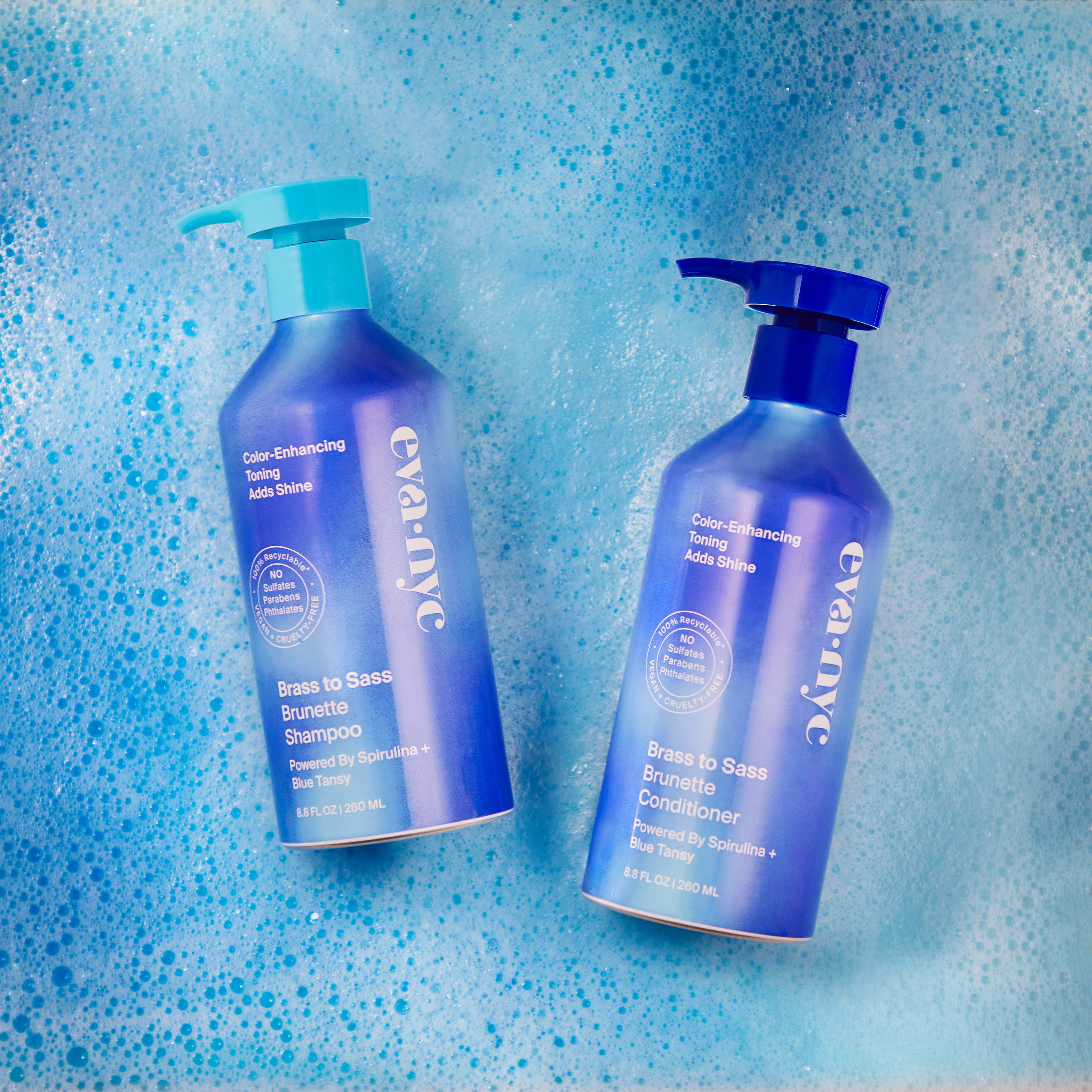 Wh
o Should U
s
e
Blue

Shampoo?
If you're a color-treated brunette, it's common to slowly see brassiness peek through after a few post-color washes. Blue-hued shampoos and conditioners deposit their rich pigments onto hair, counteracting any unwanted brassy tones that make an appearance.   
If you're a natural brunette, you can also benefit from using a blue shampoo! Using blue shampoo for brown hair can enhance your virgin strands, making them appear shinier, richer, and adding some beautiful dimension. 
Of course, people with natural red and brown hair colors can use blue shampoo. In fact, blue shampoo can be beneficial for those with these hair colors as it helps to tone down brassiness and enhance cool tones. The blue pigments are meant to counteract the orange and red tones that can appear in hair that has been lightened or exposed to sunlight. 
Those with red and brown hair colors should look for a blue shampoo with a lighter tint, as a heavily pigmented formula could potentially add unwanted blue tones to the hair. It's always best to follow the instructions on the shampoo bottle and start with a small amount to see how your hair reacts before using it regularly. 
How Often Do You Use Our Blue Shampoo?

 
The frequency of using blue shampoo on your hair depends on personal factors. In general, a basic wash guide is 1-3 for most hair types a week. This can vary from season to season and depending on your lifestyle. Use Brass to Sass Brunette Toning Shampoo for a good hair day, every day.  
Before and After Using Blue Shampoo

 
Introducing Eva NYC's Brass to Sass Brunette Collection

 
Whether your color is natural, highlighted, or dyed, this blue hued, shine-enhancing duo will leave you with rich, radiant brunette hair that's shiny, soft, and multi-dimensional. 
Our Brass to Sass Brunette shampoo and conditioner's bright blue hue neutralizes brassy red + orange tones to bring out the deepest of brunette's color.  
Our newest Brass to Sass Brunette Leave-In Cream is a waterless cream that is clinically proven to moisturize hair for 24 hours and deliver 2X stronger hair, leaving locks ultra-soft while offering heat protection to protect and extend hair color.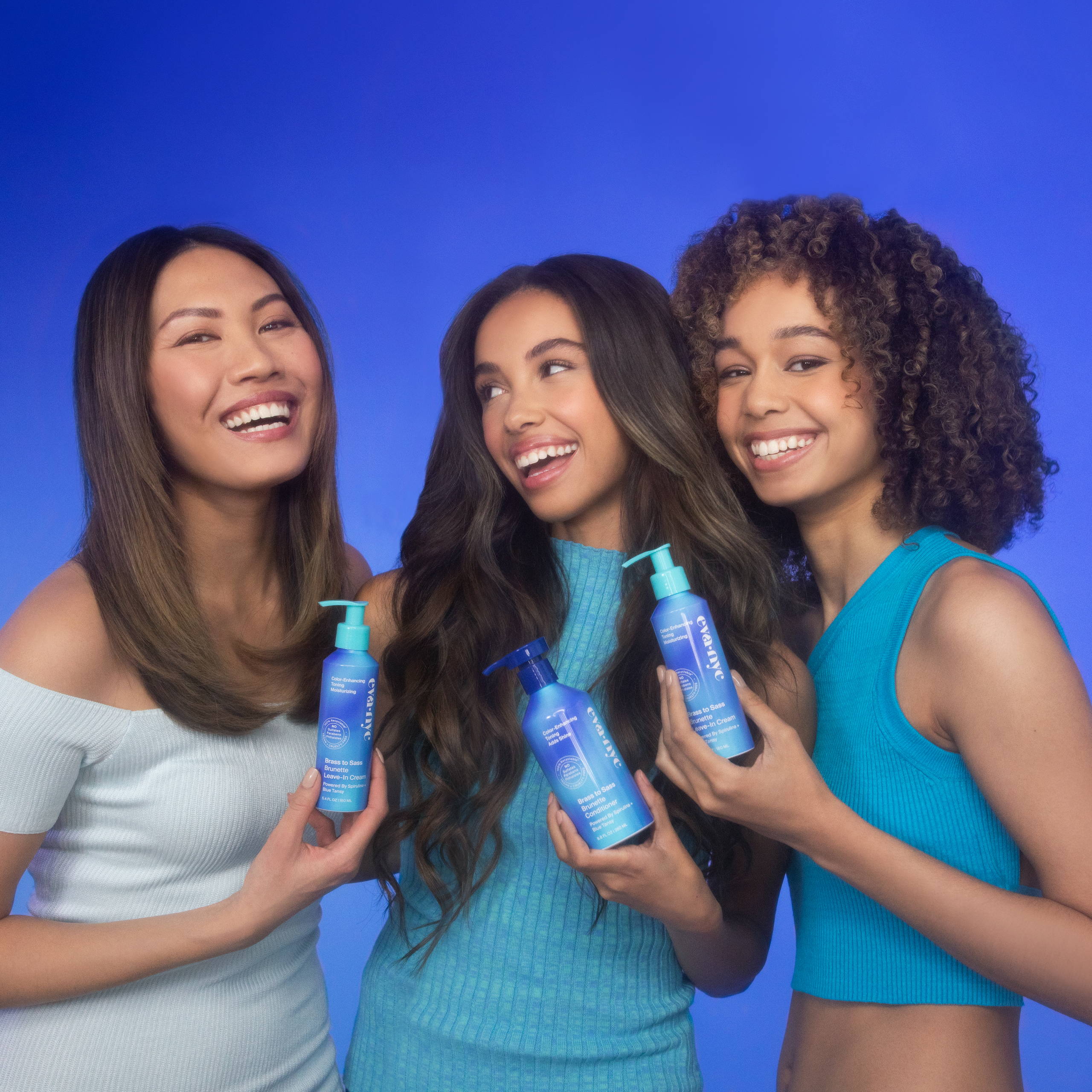 What ingredients are in our Blue Brunette C

ollection?
Our Brass to Sass Brunette Collection is powered by a trio of ingredients that your hair will thank you for, which include:  
 
Blue Tansy, a sustainably sourced flower from Morocco that produces a natural blue oil when extracted. It's known for conditioning and combating dryness.  
Spirulina, which provides essential fatty acids, amino acids, and vitamins A & Beta-carotene to give hair a healthy look + feel.   
Juniper Berry, a potent ingredient that contains high levels of antioxidants to fight free radicals. 
 
It's also certified vegan and cruelty-free, nutrient-rich, free of sulfates and silicones, and ultra-moisturizing to keep hair feeling touch-ably soft. Plus, its packaged in 100% recyclable, forever aluminum!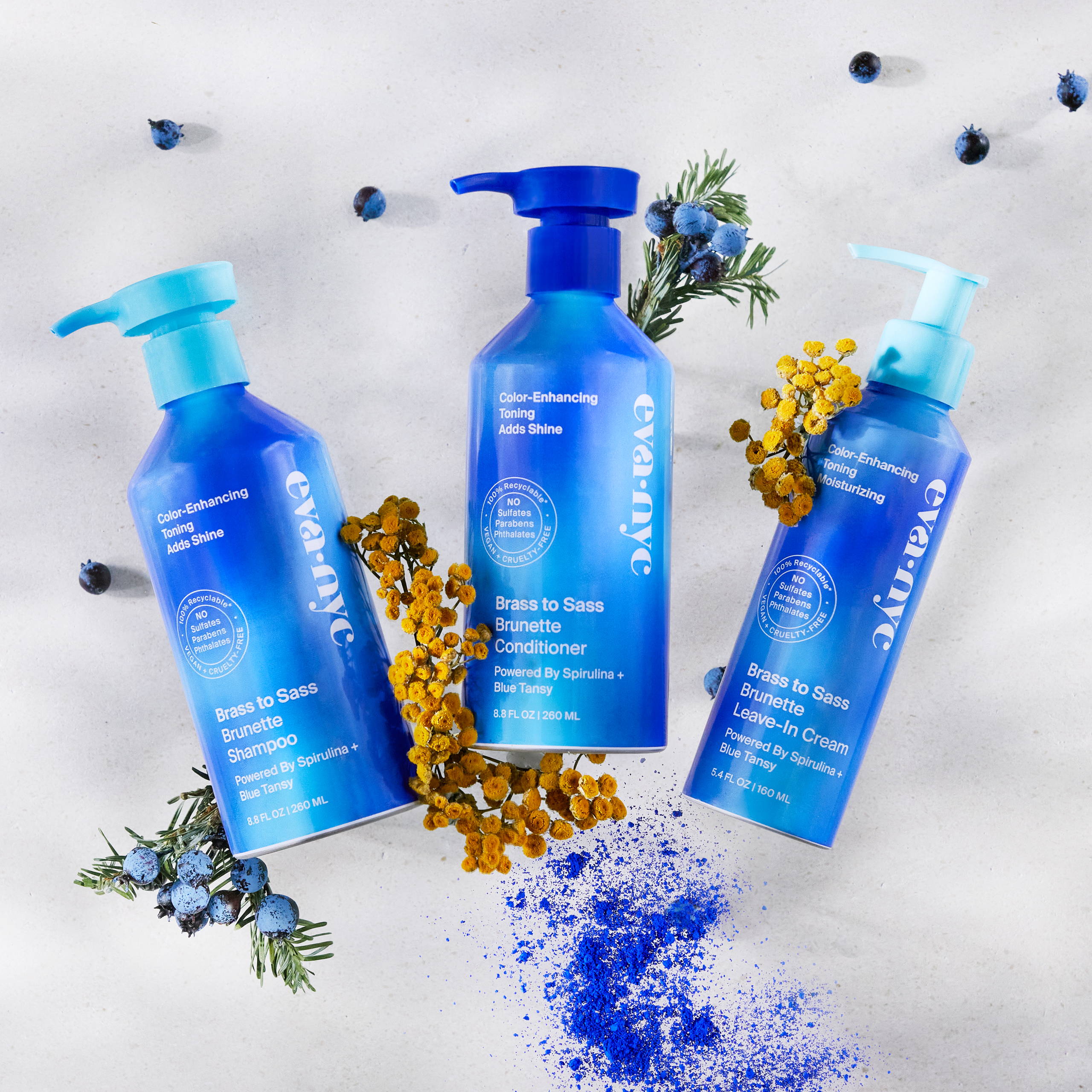 How Do You Use Our Blue Shampoo, Conditioner + Leave-In Cream?
Our blue toning shampoo and conditioner duo are a match made in brass-fighting heaven. To get the best effect, we recommend taking the following steps:  
 
Step One: Begin by gently massaging Brass to Sass Brunette Shampoo on wet hair, working it into a thick, luxurious lather and letting it saturate your strands. Rinse thoroughly and marvel at the beautiful blue pigments that wash cleanly down the drain!  
 
Pro tip: when you use shampoo that has rich pigments in its formula, it's a good idea to apply the product from root to tip to ensure even distribution and toning.  
 
Step Two: After rinsing out our blue shampoo, for extra moisturizing and toning benefits, follow up with our Brass to Sass Brunette Conditioner! Apply to freshly cleansed hair, gently massaging it evenly throughout your strands. Leave it on for 2-3 minutes, rinse thoroughly, and enjoy your newly refreshed brunette locks!  
Step Three: Once out of the shower, to enhance your natural, highlighted, or dyed hair, apply a pea-sized amount of our Brass to Sass Brunette Leave-In Cream on damp hair before styling, or on dry hair to tame flyaways and refresh dry ends.   

If you're ready for rich, radiant brunette hair then this collection will give you the salon-fresh color you've been dreaming of! Plus, it will allow you to extend the time between color sessions and save you some extra coins! Cheers to another good hair day, every day!