September 26, 2023
Just like our skin, our hair experiences a lot of stress – we put it through strains like heat styling, product build up and chemical coloring, causing damage, breakage and dryness. We should be mindful to give our hair that extra TLC like we would do with our skin!  
Enter: hair masks. It's like a face mask for your hair and acts as a deep conditioning treatment made with nourishing ingredients like natural oils and butters at a higher concentration than conditioners. Hair masks are best used for hydrating, repairing and strengthening dull, damaged hair. Here's a quick breakdown of all its benefits: 
Hydrates + Deep Conditions: The use of natural oils (for example: sunflower, argan, coconut) are rich in vitamins to deliver soft, smooth, shiny, healthy-looking hair. That extra level of concentration works to provide essential moisture to strands and tame frizz. 
Repairs + Strengthens: Any breakage, damage or split ends you may experience can benefit from hair masks because they contain restorative ingredients (like plant or wheat protein) and work from the inside out to leave hair more resilient.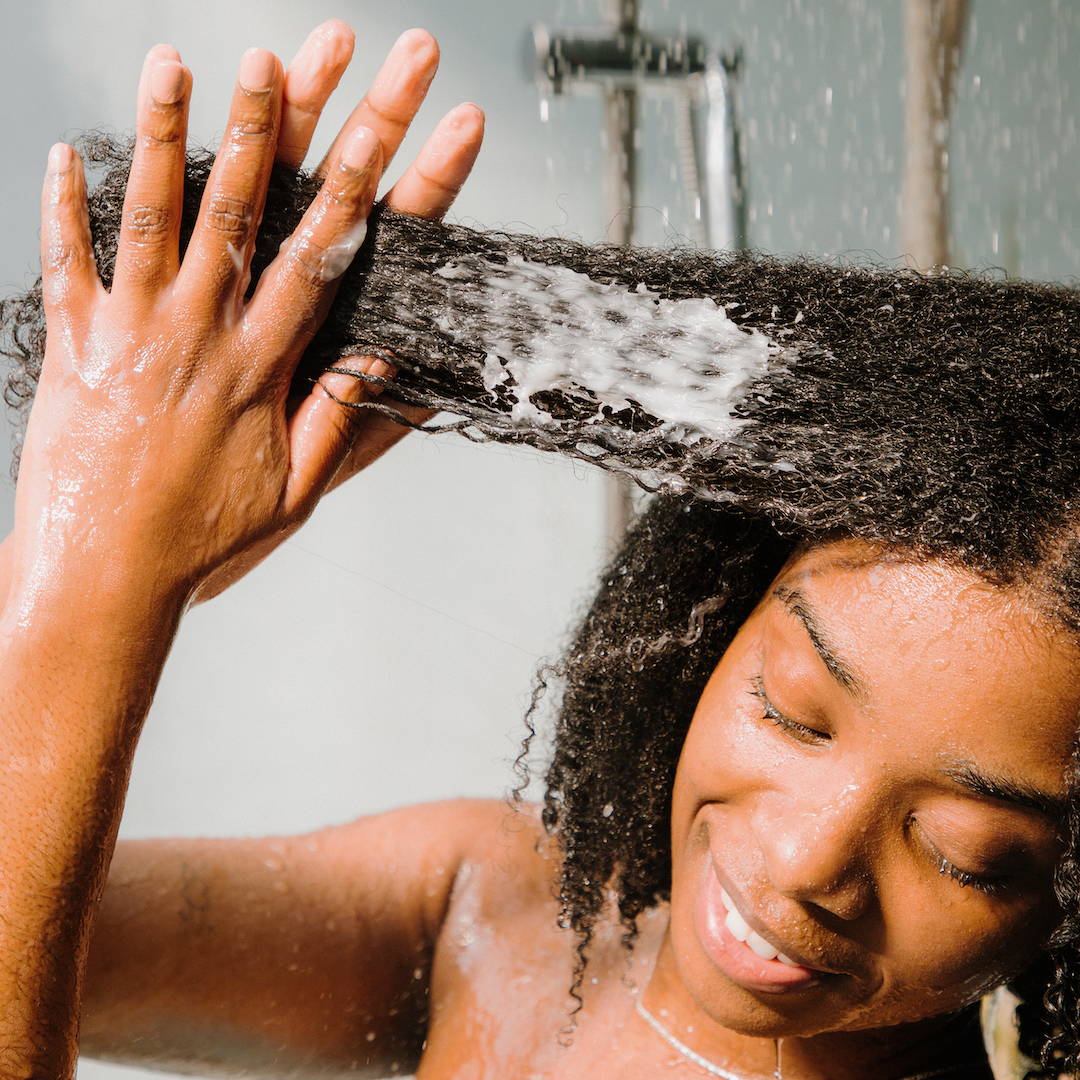 How to Use a

Hair Mask
Here's a step-by-step on how to use hair masks. 
Step 1: Apply to wet hair 
After washing and rinsing your hair with shampoo, apply a generous amount to the hair. 
Step 2: Spread evenly throughout hair 
Distribute the hair mask on your mid-lengths to ends and massage thoroughly on particularly damaged areas. Use your hands or a comb to ensure your hair is evenly covered. 
Leave on hair for 2-5 minutes unless otherwise specified. In the meantime, unwind and let the mask work its magic! 
Be sure to rinse out hair thoroughly before drying. Style as desired!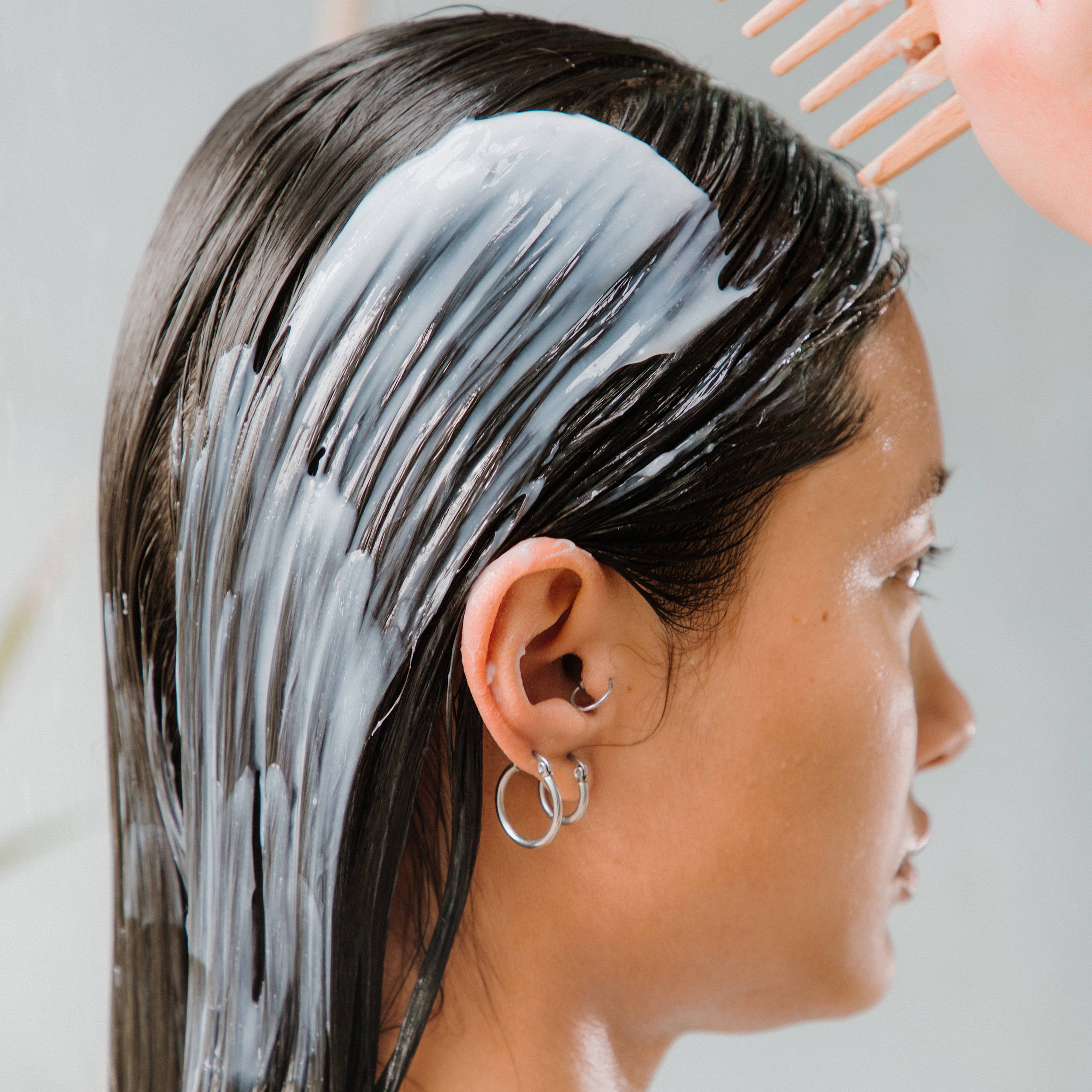 Frequently Asked Questions:
How often should you do a hair mask? Depending on your hair's needs, you can use a hair mask 1-3 times a week. Generally, you should use a deep conditioning, moisturizing treatment at least once a week, but if your hair is more dry or damaged than usual, increase to 2-3 times a week.  
Do you use conditioner after a hair mask? Traditional conditioners are meant for daily use following a shampoo. Hair masks are similar to conditioners but are more concentrated and focused on providing restorative care for those extra strengthening and sustaining benefits. While both conditioners and hair masks are recommended to use in your hair routine for healthy hair, you should replace your conditioner with the hair mask 1-3 times a week rather than using one after the other in a single wash.  
How long should you leave a hair mask in? You should leave in a moisturizing hair mask for at least 3-5 minutes, but depending on the type of mask and your hair's needs, you may leave it on longer for anywhere between 10-15 minutes. Be mindful to not leave a hair mask on damp hair for too much longer than instructed use as it can cause hair to become too moisturized and prone to breakage.   
Can you leave a hair mask in overnight? Yes! If you're working with hair that's already dry, you can leave in a hair mask overnight.  
Meet our

Deep Conditioning Hair Mask
Our Therapy Session Hair Mask contains a rich, creamy texture that melts into your hair while melting your troubles away. It's powered by: 
Plant Protein: Hydrates and smooths for healthy-looking hair, making brittle hair feel silky smooth 

Argan Oil: Contains high levels of fatty acids, powerful antioxidants, and vitamins A, C, and E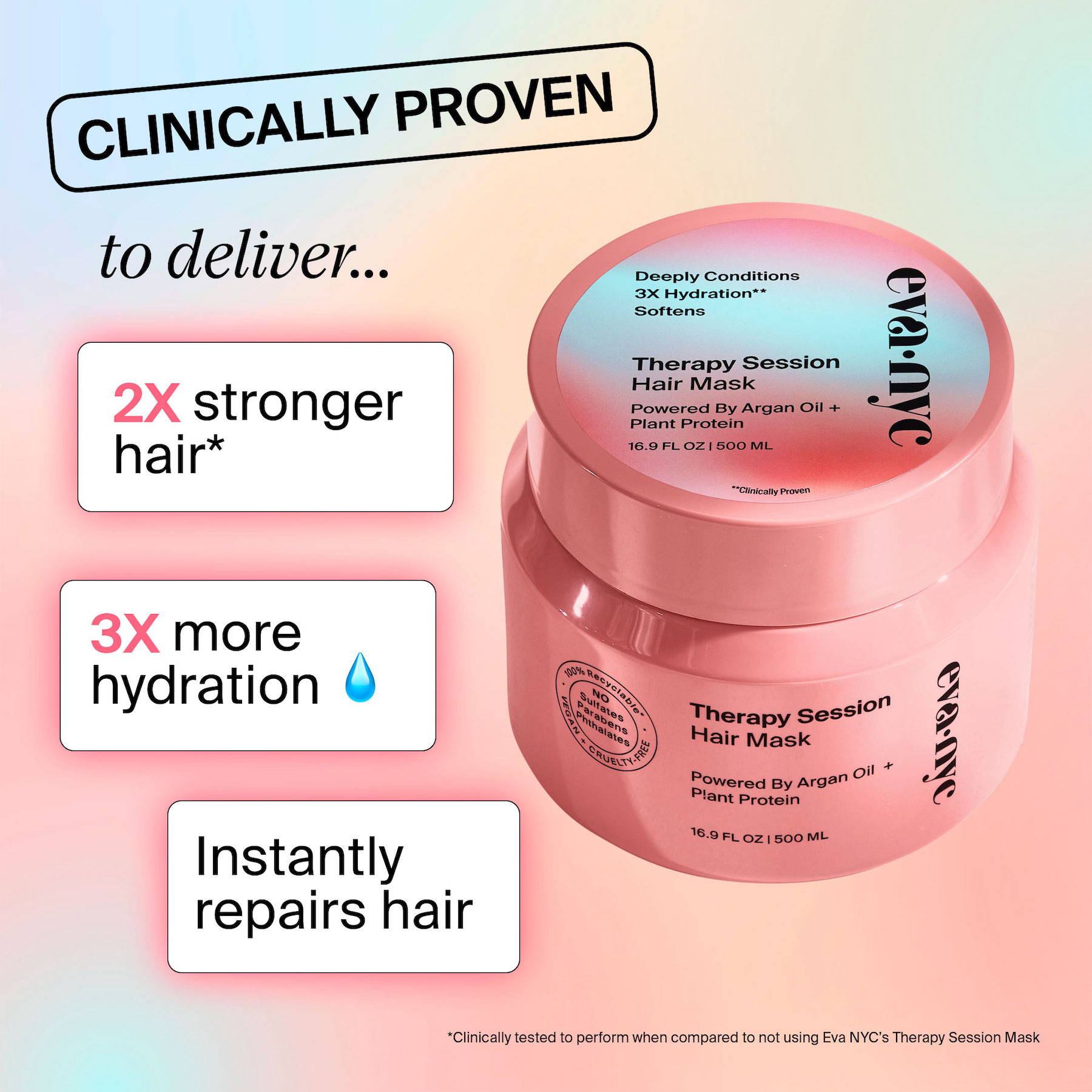 This even more effective Therapy Session Hair Mask still gives you that much needed TLC and deeply conditions for luxuriously softer hair. It is now clinically proven to instantly repair damaged strands and deliver 3X more hydration after just one use! Not to mention, our new formula delivers smoother hair for 48 HRS and 2X stronger hair for 60% less breakage.   
Apply to damp hair and leave Therapy Session in for 2-5 minutes as you begin to relax and unwind into your ultimate self-care routine! Don't forget to rinse!  
A Hair Mask

For

More Shine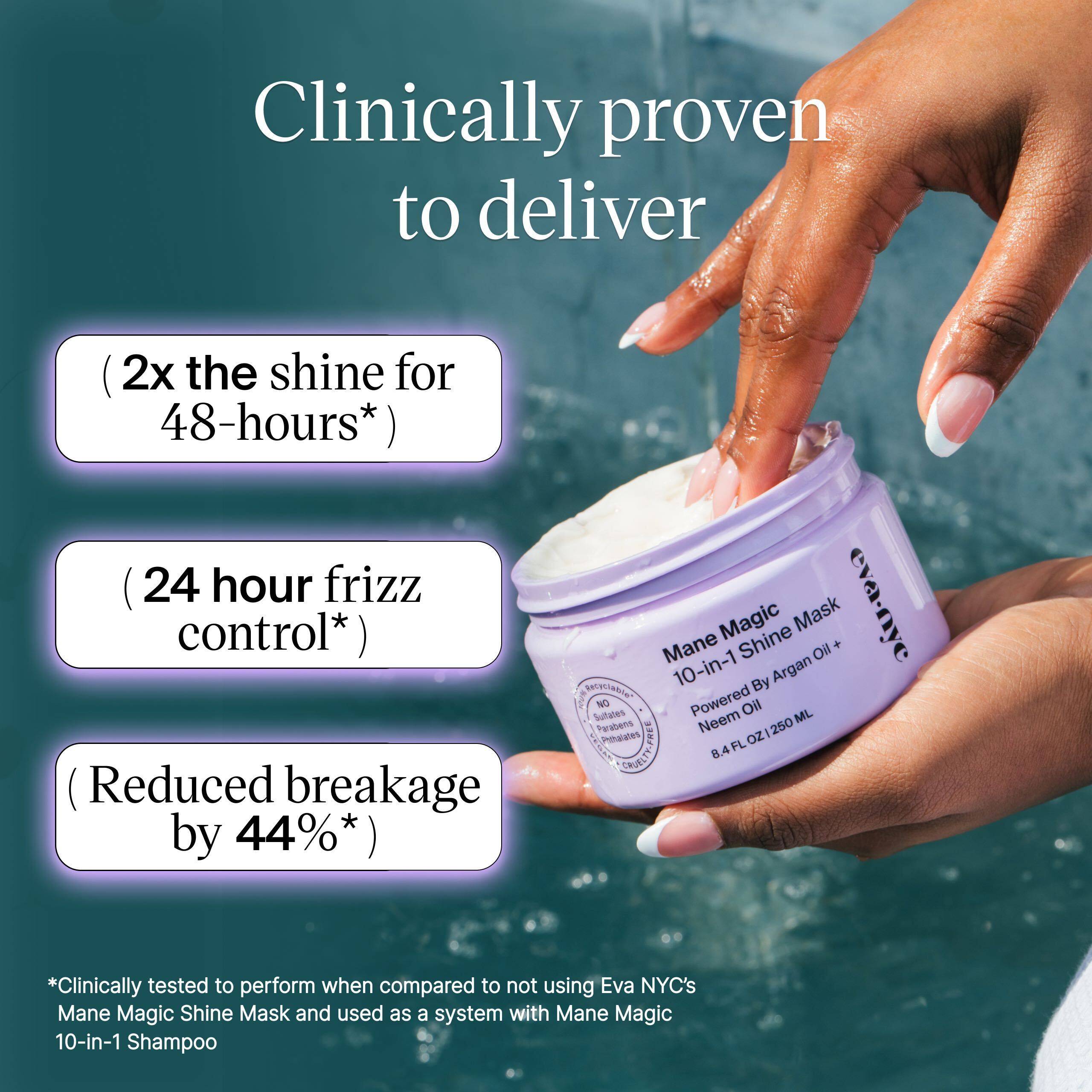 Meet our NEW Mane Magic 10-in-1 Shine Mask! The latest addition to our Mane Magic collection delivers magically perfect hair with a glassy, mirror-like shine. Its moisturizing formula contains 10 magical benefits, leaving your hair soft, smooth and is clinically proven to deliver 24-hour frizz protection.  
Experience 10 benefits in 1 magical mask: 
Healthy Look + Feel 
Use this mask 2-3 times a week or as a daily shine treatment to achieve super smooth locks. Leave on for 3-5 minutes and rinse thoroughly. Filled with powerful ingredients, watch your hair reach its ultimate shine! 
For even more nourishment, simplify your styling routine with a hair primer to give your hair a daily dose of vitamins and nutrients. 
A Hair Mask

For

More Volume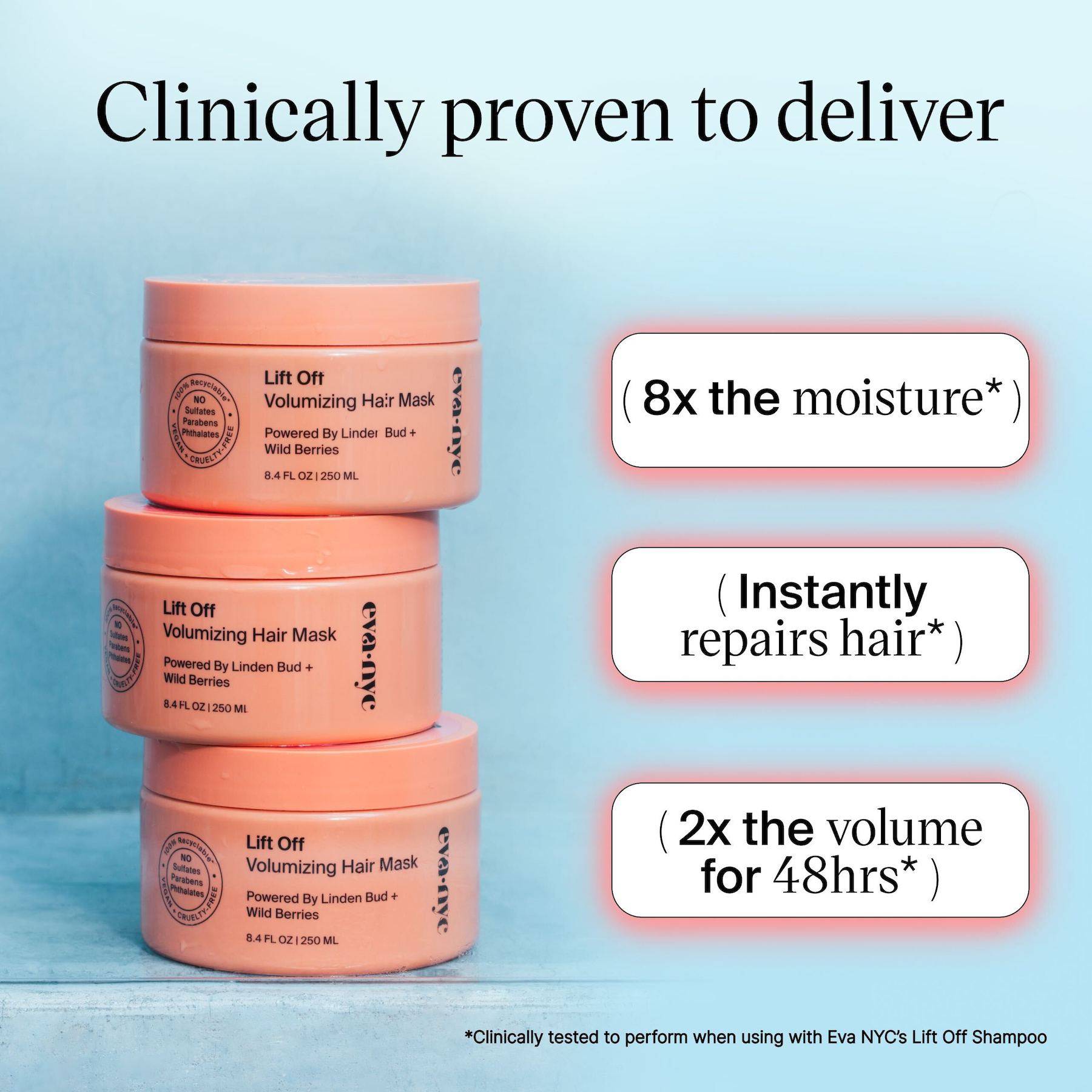 Ready for lift off? Meet our new Lift Off Volumizing Hair Mask! It's time to pump up the volume with this lightweight, deep conditioning mask that will leave even the finest of hair thicker-looking, detangled and soft as a cloud.  
Infused with:
Linden Bud: 

Handpicked from trees grown in Turkey and rich in nutrients like flavonoids and amino acids, Linden Bud helps moisturize and forms a protective layer to give the hair a more voluminous appearance.

 
Wild Berries:

A combination of three antioxidant-packed Australian wild berries that help combat hair damage and can give short and long-term hydration.

 
This ultra-moisturizing formula is clinically proven to deliver 2X the volume for 48-hours and 8X the moisture after just one use! Use on damp hair weekly and leave on for 5-10 minutes and rinse thoroughly. Take your hair to soaring new heights! 
Ready to pump up the volume? Learn more about our collection of hair volume products.  
A Hair Mask

For

Blondes

 
Wild Cherry Bark: C

ontains

high levels

of antioxidants to help

deeply

condition for a smooth and silky feel.

Ultra-Violet Pigments: N

eutralize

s

and

cool

s

down yellow to brassy tones.

Ginger Root Extract: H

as stimulating properties that work to energize, and polysaccharides and amino acids that help moisturize.

 
Use on damp hair once a week, or as needed depending on toning desirability. Leave on for 3-5 minutes and rinse thoroughly. This hair mask is perfect for all types of blonde and gray hair – highlighted, natural or dyed!  
A Hair Mask

For

Brunettes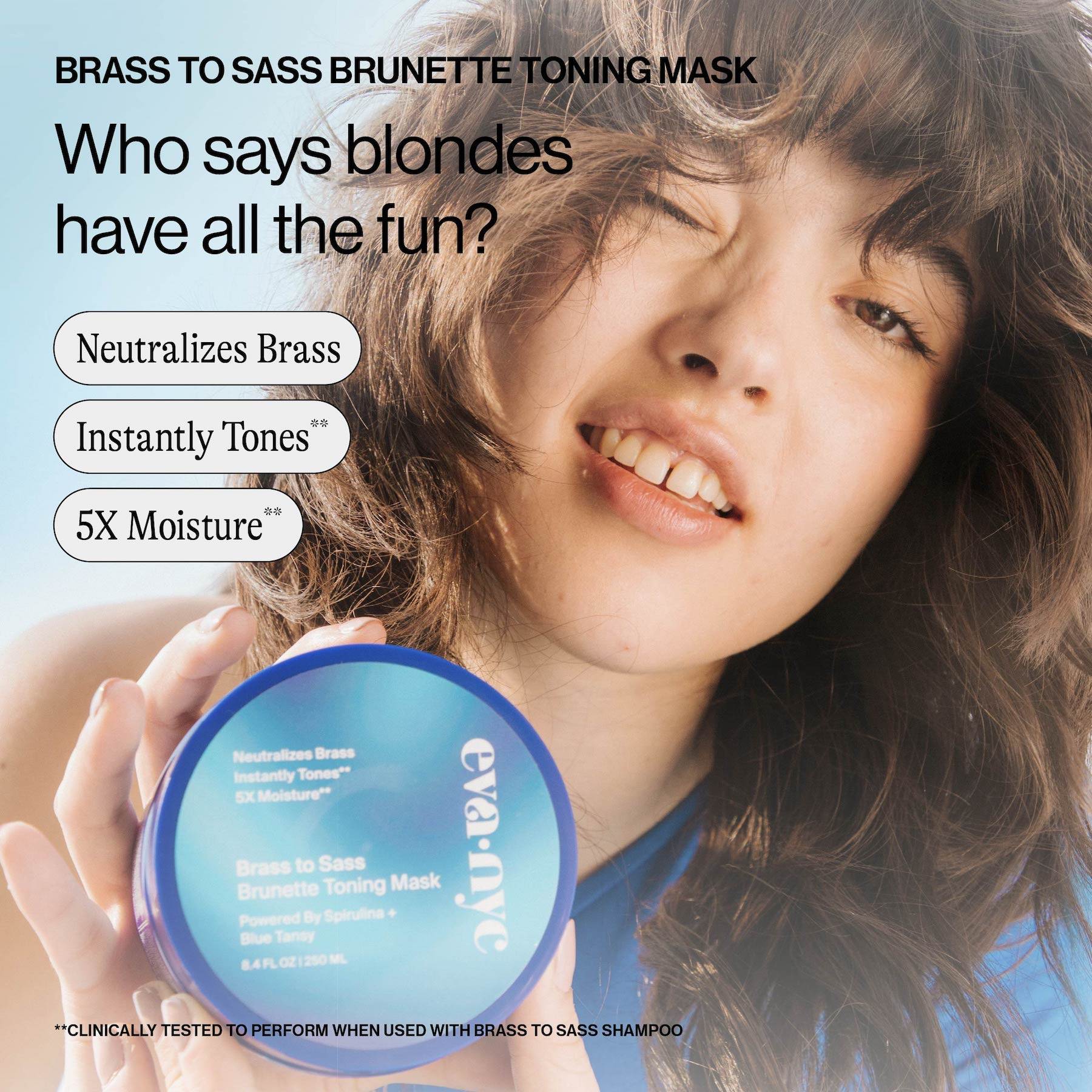 Why should blondes have all the fun? Brunettes, we've got a blue hair mask for you too: our Brass to Sass Brunette Toning Mask! A bright blue pigmented toning mask, it neutralizes brassy red and orange brassy tones, adds shine, and deeply conditions. It will leave hair dimensional, shiny, hydrated and ultra-soft, with cooler brunette color and is clinically proven to instantly reduce red tones.* 
Blue Tansy: A

sustainably sourced flower from Morocco that produces a natural blue oil when extracted.

It's

known for conditioning and combating dryness.

Spirulina: P

rovides

essential fatty acids, amino acids, and vitamins a & beta-carotene to give hair a healthy look + feel.

 
Use on damp hair once a week, or as needed depending on toning desirability. Leave on for 3-5 minutes and rinse thoroughly. 
Every Eva NYC hair mask is made with recyclable packaging! They are made from 97% post-consumer recycled plastic (PCR), which creates a lower carbon footprint than virgin plastic and is friendlier to the environment.