June 07, 2022
Find yourself getting overwhelmed and lost when browsing all of the options for shampoos, conditioners, and styling products? Are your current hair care products a match made in heaven for your strands? The answer lies in knowing your hair type and hair texture!   
Similar to knowing your skin type and creating the perfect skincare regimen, getting to know the ways of your mane is just as important! It will help create an effective hair care routine that provides the best benefits, just for your hair type. This guide will share the best hair products for each different type of hair. Whether you have the coily spirals of type 3 curls, the full-body volume of type 2 waves, or the sleek look of type 1 straight hair, we're here to help you how to know what type of hair you have!   
What is

Hair Texture

?
Hair texture refers to the individual hair strands, hair thickness, and how they feel to the touch. It's essentially the thickness or thinness of your hair strands, and it plays a significant role in determining how your hair looks and feels. Hair texture is usually categorized into three main texture types: fine, medium, and coarse. The best way to determine your texture is to leave your hair free of product and let it air dry after washing.  
Hair T

exture

Chart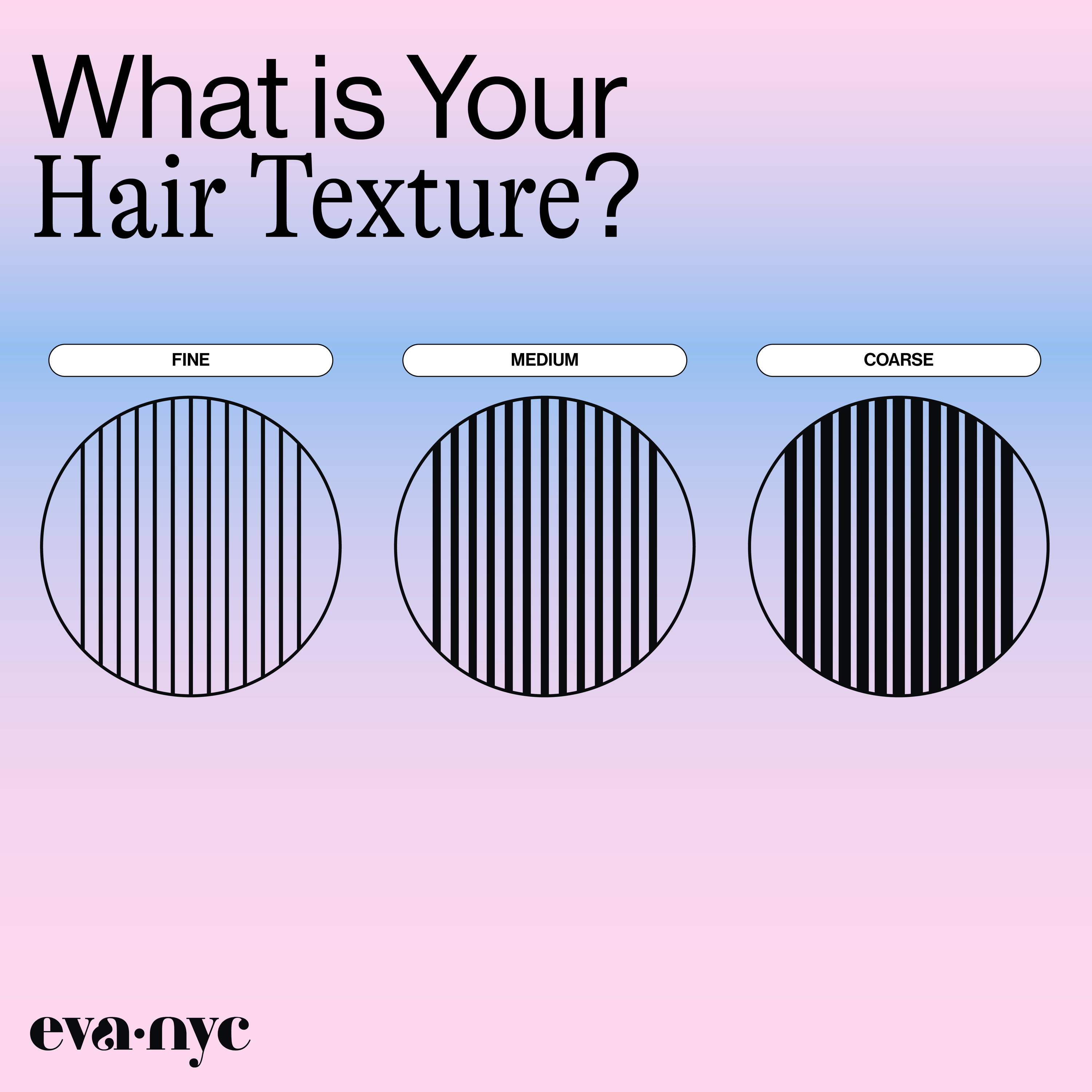 Fine Hair

:
If you have fine hair, your individual strands are relatively thin. Fine hair or thin hair often gives the appearance of being delicate and can sometimes lack volume. It's important to choose products that provide nourishment without weighing your hair down. For finer hair textures looking for fuller locks with instant body, check out our Lift Off Volume Collection. It's moisturizing, volumizing formula delivers soft and perfectly voluminous hair that won't fall flat. If you're looking for a lightweight heat protectant to add to your hair care routine, check out of Mane Magic 10-in-1 Primer for Fine Hair. 
Medium Hair:
Medium hair falls in between fine and coarse. It's a common and versatile texture that can handle a range of styles and products.  If you're looking for a little extra strength and moisture, We've got your back! Our Mane Magic 10-in-1 Collection consists of 7 haircare and style products that transform your locks into a soft, frizz-free, strong mane. With 10 benefits in each magical bottle, it's sure to give your hair the deep hydration it's been longing for.  
Coarse Hair:
Coarse hair consists of thicker individual strands and textured hair. This type of hair tends to be more resilient but might require extra moisture to keep it manageable and soft. If your thick hair needs love, the Satin Dream Smoothing Collection knows exactly what you need. We recommended this collection for thick + coarse hair types. Its ultra-rich formula adds shine, fights frizz, and leaves hair satiny smooth. 
Not sure of your hair's texture? Try comparing an individual strand to a string of sewing thread. If it seems thinner than the thread, it's fine. If thicker, it's coarse and if it's in the middle, it's medium.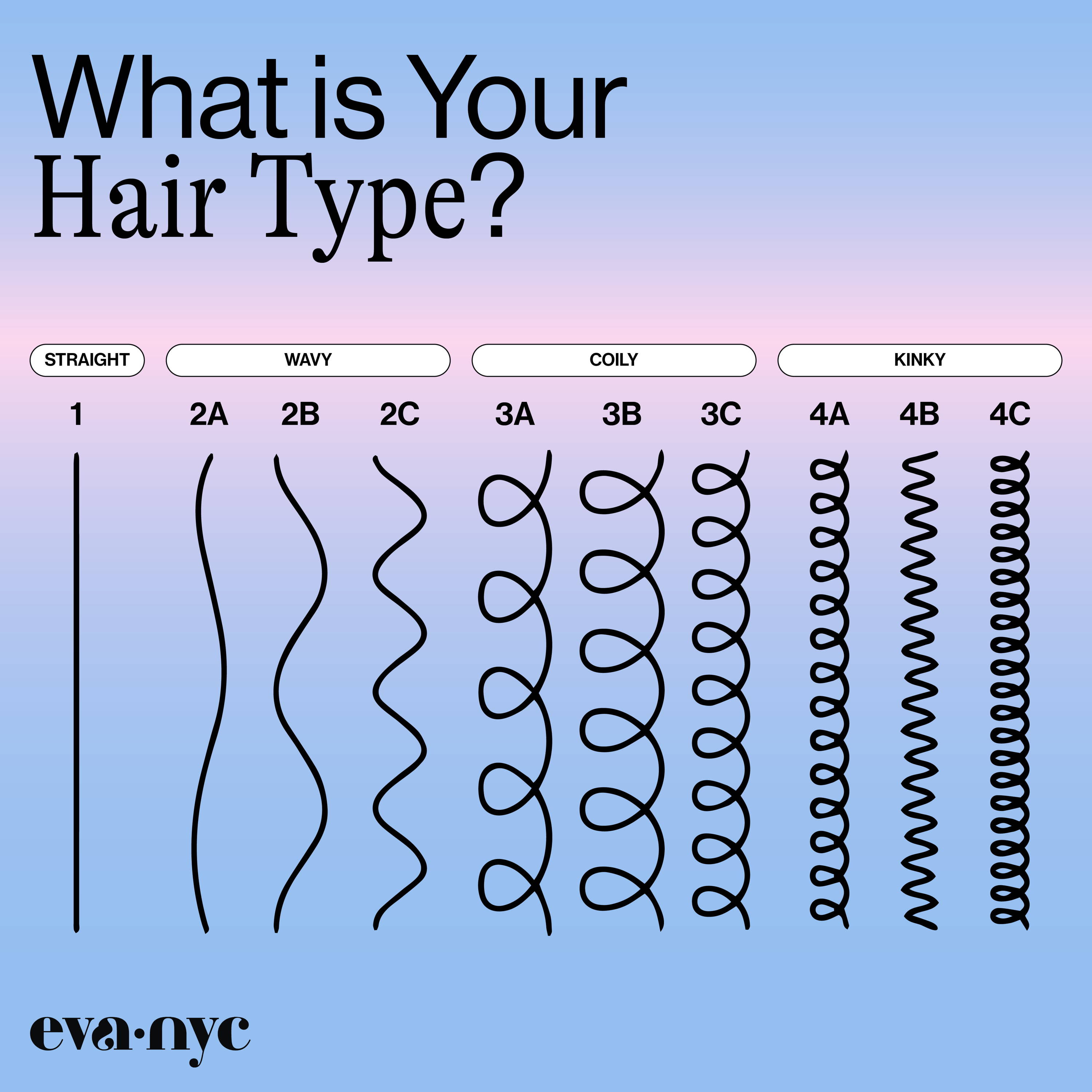 Hair type refers to the natural shape and pattern of your hair strands. This is connoted by a number 1-4, which represents the texture of your hair. It's followed by a letter A-C, which connotes the hair pattern. For example, if you have curly hair, depending on the thickness of and the tightness of your curls, you could be anywhere between a 3A and 4C.  
Here's a breakdown of the different hair types:   
Type 1: Straight Hair –
Straight hair is with lack of curl or wave. It's straight from the roots to the ends and can be any hair texture. You can have fine straight hair with minimal volume or coarser straight hair with slightly more volume and resistance to styling.   
Type 2:

Wavy Hair

–
Hair that has a gentle wave pattern that ranges from loose S-shaped waves to more defined waves. If you're looking to add body and embrace your natural hair, our Lazy Jane Air Dry Collection is perfect for an easygoing, heat-free styling routine!  
Type 3:

Curly

Hair

  –

 
Hair that has a distinct curl pattern and curl type. It ranges from loose curls to tight coily hair. Type curly hair tends to require products that are nourishing, frizz fighting, and smoothing to maintain the shape and health of the curl. Want brilliant and bouncy hair? Our Curl Collection includes two products that'll define, refresh and enhance your curls.  
Type 4:
Coily
and Kinky Hair –
From S-shaped coils to Z-shaped kinks, it includes hair that often appears densely packed and is known for its versatility and shrinkage. For those with this hair type who experience frizz and dry hair, our Therapy Session Hair Mask will give you the much needed TLC for your hair needs. Our hair mask will deeply condition, hydrate, and deliver 48-hour smoothness.   
So, after all the tests you should be your own hair care expert. You'll discover that your hair is a variety of different types, but knowing those qualities will help you find the right products and create the best regimen that works for your strands. Here at Eva NYC, we formulate products with all hair types in mind. For a personalized list of recommendations based on your hair goals and specific needs, take our hair quiz.